WoW
Jan 19, 2021 2:00 pm CT
Get an easy hundred Anima a day from Maldraxxus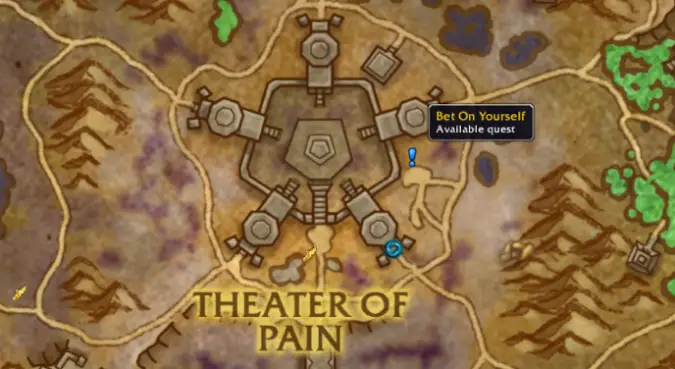 Look, we're all feeling it when we're desperately trying to claw up enough Anima to hit the 1000 Anima a week for our Covenant, and frankly, it gets kind of tedious after a while. But there's a way to get yourself 105 Anima a day, every day, and it's not terribly complicated or onerous. You'll just need to go to the Theatre of Pain and complete the questline there, if you haven't already done so while leveling.
You do this by going to the Theatre of Pain in Maldraxxus and starting off with the quest I Could Be A Contender given by Anzio the Infallible. The final quest in the chain, The Ladder, is basically the same as the World Quest Amateur Night, only requiring you to kill three of the Theatre of Pain elites instead of two. It's not entirely clear what causes the Bet On Yourself quest to unlock, but the current theory is that it will be available after a reset, so if you haven't done this yet you may have to wait until the next reset before you can do the daily.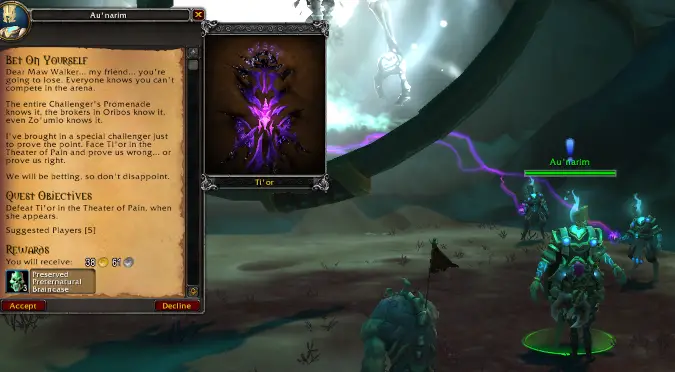 But once you do get the quest to open, you get a fairly easy quest — there's usually a few people killing elites in the Theatre of Pain whether they're doing this quest or the unlock quest The Ladder, and you can find a group via the group finder without too much fuss most days. The only downside is waiting for the specific mob mentioned in the quest, as both The Ladder and Amateur Night let you get away with killing just about anyone while Bet On Yourself requires you to kill a specific elite. Still, that's 735 Anima a week from this one quest, since it's repeatable every day and rewards 105 Anima each time. Combine that with one World Boss kill and a couple of Mission Table jaunts for Anima and you'll hit 1000 before you know it. Plus, you can do it on your alts, so keeping multiple characters in Anima is a lot easier.
Plus, if you haven't already unlocked the Theatre of Pain, you probably should — it's not hard and it's a fun questline that gives you a look at Maldraxxus as a more day to day place, divorced from the whole epic story of the Primus' disappearance and the battle for control of the zone. Maldraxxus is a place all about conflict and combat, but it's also a place where people love their spectacle, and the Theater of Pain is where they go to scratch that itch. So why not get to take part and get yourself over 700 Anima a week in the process?