WoW
Jan 19, 2021 5:00 pm CT
Don't forget! You can upgrade your Covenant gear up to ilevel 197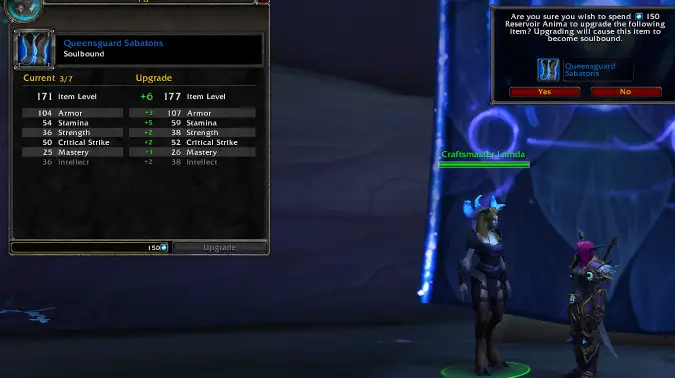 If you've been progressing in your Covenant questline, you may have noted that the pieces you got earlier are languishing in your bags because they're low ilevel, while the latest pieces are as good or better than Heroic dungeon gear. As you continue, you'll start to get Covenant armor pieces that are as good as Mythic dungeons or even LFR, with the last pieces capping out at ilevel 197.
But what about those older, low level set pieces? Fortunately, you can upgrade them to ilevel 197, too. This is a great way to fill gear slots and boost your ilevel — as long as you have the Anima to do it.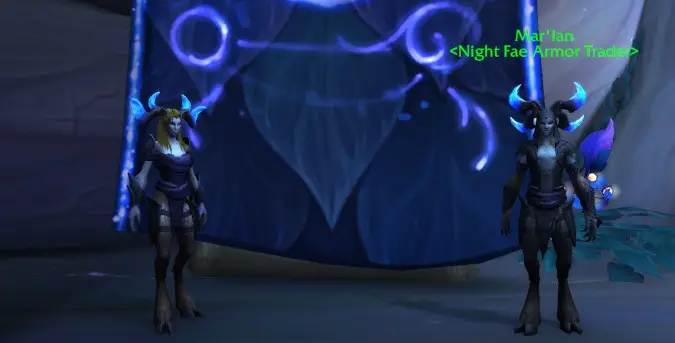 What if I already sold my low-level Covenant gear?
First off, let's cover what to do if you sold off your Covenant pieces because they weren't upgrades. For Night Fae (the Covenant I'm working on) there's Mar'lan, hanging out directly in front of a big flag for the Night Fae Covenant. The Venthyr equivalent is Gregor the Pallidblade, the Necrolords look to Slayer Araya, and for the Kyrian it's Forgelite Neptira.
It's good to know these NPCs anyway because they're literally right next to the upgrade NPC for the various Covenants — if you've found the armor vendor NPC, you've found your upgrade NPC. There's Craftsmaster Lamda for the Night Fae Covenant, who will handle your upgrades if you're Night Fae. For the Kyrian it's Forgehand Phillo, the Necrolords turn to Goreguts, and Guy Yearmo fulfills this duty for the Venthyr.
Regardless of which Covenant you chose, they're always right next to the vendor. If you sold off a piece of armor and now want to upgrade it, you can buy it back and immediately step over to start the upgrade process.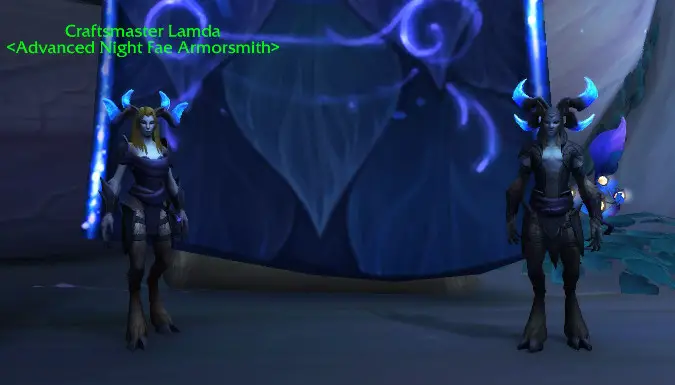 How to upgrade Covenant gear
To upgrade, simply talk to your faction's upgrade vendor in your sanctum, or the PVP upgrade vendor in Oribos. You'll have to upgrade your gear one tier at a time, with the Anima cost increasing in increments. Here's how much Anima you need:
ilevel 155 to 164 costs 50 Anima
ilevel 164 to 171 costs 100 Anima
ilevel 171 to 177 costs 150 Anima
ilevel 177 to 184 costs 200 Anima
ilevel 184 to 190 costs 250 Anima
ilevel 190 to 197 costs 300 Anima
Now that the entire Covenant Campaign is accessible, you can get up to ilevel 190 gear as you complete the campaign (with higher-level gear showing up later in the campaign), and can upgrade every piece all the way up to ilevel 197.
But you won't have every upgrade available the second you hit level 60. The upgrades are inherently linked to your progression — for example, while I know it would have cost me 200 Anima to upgrade my ilevel 177 belt — the interface told me so, helpfully enough — it also made it clear that I can't do that until I've progressed further in the Covenant Campaign. But once you complete a chapter in the Covenant story, you can upgrade all your older pieces to match up with the items that drop from that chapter. And when you've completed the whole campaign, you can upgrade the set to ilevel 197.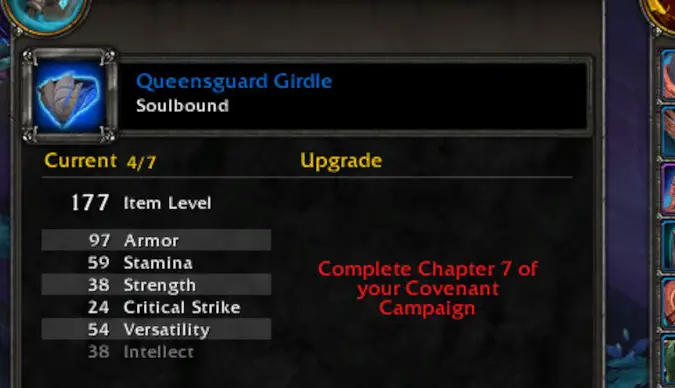 A (relatively) painless way to bump your ilevel
This is a straightforward upgrade path that's easy to miss, so don't forget these upgrades when you're gearing up. If you're sitting at ilevel 168 trying to get to 170 to run LFR, for example, you can upgrade a piece or two and get a nice bump to your ilevel — plus you'll just plain have better gear. And you can keep using your Covenant gear for a while, as you'll get to keep upgrading it all the way up to ilevel 197. That's a nice plus.
So there you have it. Hold on to your Covenant Campaign gear, keep farming up that Anima, and you can keep this gear at a useful ilevel for a while to come. Plus, that ilevel 155 chestplate that you've been staring at like a forlorn prince in a romance novel? Well, now you can actually use that thing.
Originally published 12/29/2020, updated 01/18/2021