WoW
Feb 12, 2021 7:33 pm CT
Raiders rejoice, because Castle Nathria bosses will drop 33% more loot starting February 16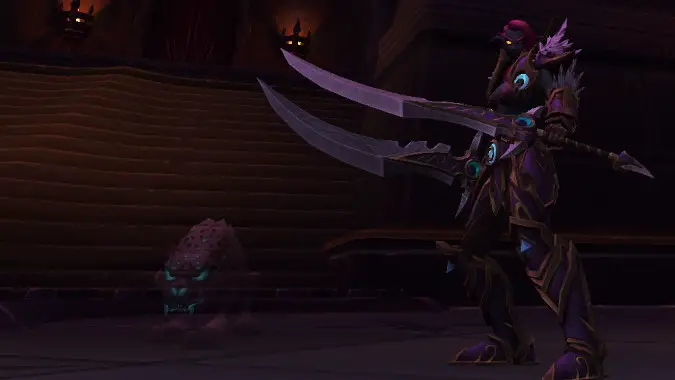 Valor Points have returned to address the difficulty of gearing up in Mythic Keystone dungeons by letting players upgrade gear — but even with these changes, quite a few World of Warcraft players were concerned by the relative paucity of loot drops in raids. The Valor Point system wasn't coming to raids, even though Blizzard admitted that raid gearing was a problem.
So what's Blizzard going to do about it? Now we know they're taking the straightforward approach: the loot drop rate in Castle Nathria will be increased starting on February 16 for North American players. The same changes will be applied to other regions during their scheduled weekly maintenance.
What's interesting is that this change is specific to Castle Nathria — clearly we don't need it for older expansions, but it also implies that these changes won't be applied to future raids, and World Bosses drop rates won't change, either. But in Castle Nathria, bosses will drop 33% more loot as well as more weapon tokens, but other drops like Conduits for our Soulbinds and Legendary Memories for the Runecarver won't be affected by these changes.
With scheduled weekly maintenance (February 16 in this region), we intend to make tuning adjustments to increase the amount of loot rewarded in Castle Nathria, and to improve the ratios of certain types of drops.
Raid
Castle Nathria

Bosses now drop 33% more loot than before, in all difficulties.
Weapons tokens now drop more often than before, in all difficulties.
10-player raids should now see 2 gear items, and 20-player raids should now see 4 gear items from each boss. These adjustments will not affect other loot that drops in Castle Nathria (such as Legendary Memories or Conduits), nor will there be any impact to drops from raid encounters outside Castle Nathria.
Thank you very much for your feedback!
I mean, it's a brute force solution, but we needed something and at this point I think increasing drop rates was probably the right call. Clearly there's concern that this will end up being too much loot, based on the fact that it's not being applied to the World Bosses or any future raids, but I don't personally think that will be the case at all.
I do wonder why Mythic Keystones will have an entire currency system applied to them after the next patch while they're just going to hotfix Castle Nathria now. Immediately increasing loot does support players' arguments that raiding is the worst place to get gear this expansion so far, and I admit I'm hoping that the weapon tokens in particular start dropping significantly more often. It would be nice to know how much more of those we'll see drop, as the current wording isn't very exact.
Still, we needed a fix and this is definitely a step in the right direction. I'm looking forward to next week's reset to test out if our weekly raid feels better.