WoW
Feb 16, 2021 2:00 pm CT
The top 4 minigames found in Shadowlands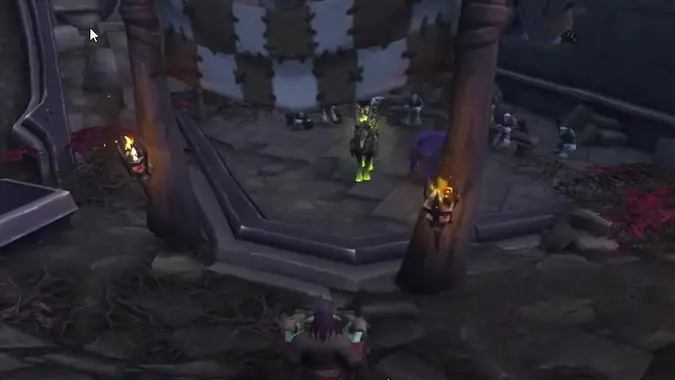 There's a bunch of fun World Quests in Shadowlands that don't quite fall into the usual gameplay dynamics. These fun quests can help break up the daily monotony of running around and killing seventeen Forsworn or clearing out rampaging beasts from the woods near a town. Every expansion usually has a few different mini-games in it. We've seen homages to Plants vs. Zombies, Bejewelled, and three card barrel monte in past expansions, so what does Shadowlands have for us — and more importantly, which game is the best?
These are my top four favorite mini-games that are scattered around the Shadowlands. I'll go out of my way to do these when I see them up as a World Quest for the day — even if they're in a terribly inconvenient place on the map.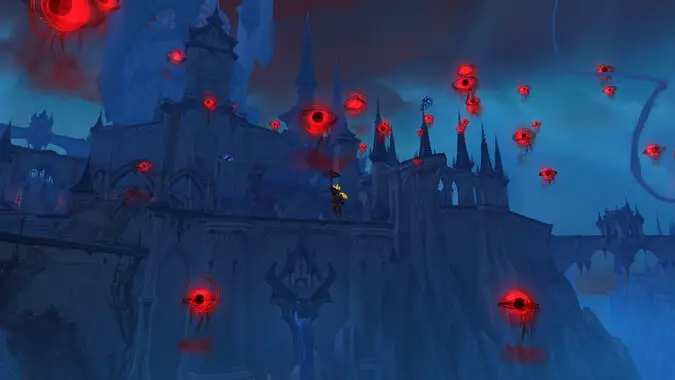 4 – Duke Theotar's Parasol Peril
Duke Theotar has become one of the standout characters from Revendreth. Likewise, his Parasol Peril World Quest is one of the standout activities of Revendreth. Taking a simple concept of "Anima orbs keep you airborne" this is a fun and quick mini-game that doesn't overstay its welcome. I like making a game of it too — trying to see how few orbs I can collect on the way over, or trying to get as many as possible before finally reaching the goal line.
Mary Poppins, eat your heart out!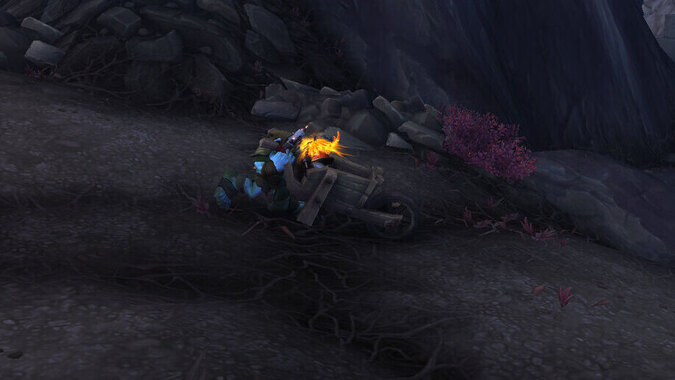 3 – Race day at the Ramparts
It's a great day for a race! Those industrious Dredgers are just itching to get you down the hill as fast as they can. Assuming you're good enough at steering to keep them out of the muck. To this day I still don't think I've managed to hit every speed boost without careening wildly off course and winding up in the ash piles of the Ember Wastes.
This is a mini-game that's just begging for more courses. Send us clattering madly down a path amongst the floating islands of Ardenweald where one misstep teaches us that wheelbarrows don't fly.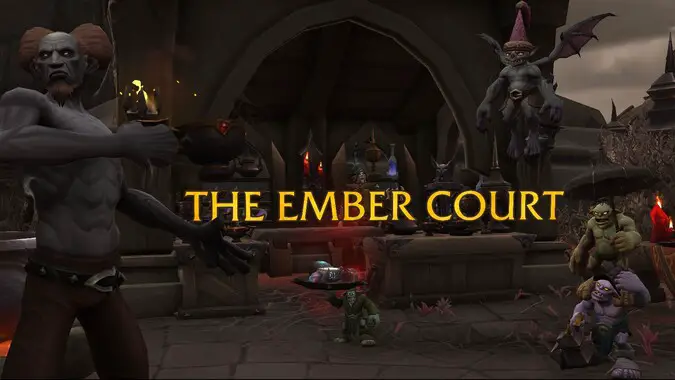 2 – The Venthyr Ember Court
The Venthyr Ember Court is chock full of mini-games. Some of them are just figuring out which flavor of unrepentant soul you've got to punish, but others are riding a frenzied Gorm through your party — feeding hapless Dredgers to it until you can guide it back to its cage.  From food fights to yeeting Dredgers off of a mountain, the Ember Court has it all.
I think what I love most about the Ember Court is the humor. It's not taking itself too seriously — unless you're throwing a formal party — and I've laughed more than once at the new absurdities that have shown up, especially seeing how Theotar got into the holiday spirit for whichever event is on right then. It's also great for Venthyr to just get to hang out with some of the amazing characters from other Covenants that they wouldn't get to spend any time with normally. I love throwing messy parties for Plague Deviser Marileth and Kevin.
The Venthyr wound up with the most involved Covenant activity from what I can tell. It's already pretty stuffed with content, but there's a bunch of potential for expanding it as the expansion continues. New factions mean new party guests, and going to new zones could mean new and exciting party activities.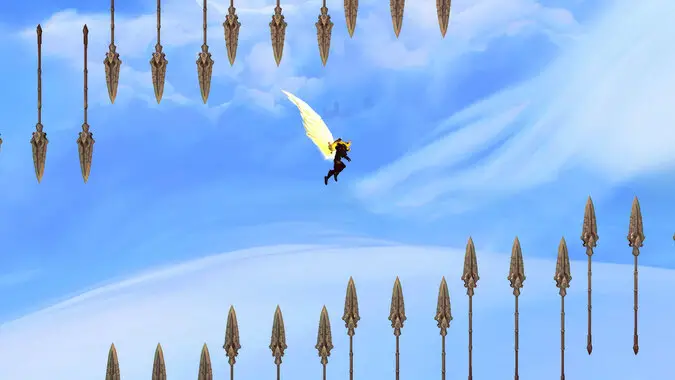 1 – Flapping Frenzy
Flapping Frenzy is one of the best minigames that Blizzard has ever included in Warcraft. It's immediately obvious that it's a Flappy Bird reference — while still managing to make sense as an in-universe test that I could see Kyrian Initiates being subjected to. As soon as I realized there was a hard mode I spent the better part of an hour trying over and over and over again until I completed it.
Over the course of that hour, I learned that spears are very pointy, and my Zandalari doesn't enjoy running into them. I also learned that the top spears aren't quite as well defined as the bottom ones, so you can cheat a little higher than you think you could. Getting to the end and earning the Aerial Ace achievement was extremely satisfying.
I'd like to see the course expanded with more obstacles, or have flight courses in the other zones in new patches. There are plenty of flying beasts and characters who might need a brush up on their flight-related fundamentals in other zones. They could even add an achievement that awarded a pair of wings similar to the Selfless Wings of the Ascended so non-Kyrians could have a beautiful pair of wings to show off.
In Battle for Azeroth we saw new Tortollan and Nazjatar mini-games in later patches. I really hope Shadowlands follows suit, especially since Maldraxxus and Ardenweald have been pretty underserved in terms of their mini-games. Ardenweald is full of pranksters and Fae creatures that love a bit of fun and frivolity — why haven't they gotten in on the action?!