Don't bother hoarding Stygia, because Ve'nari won't be interested in patch 9.1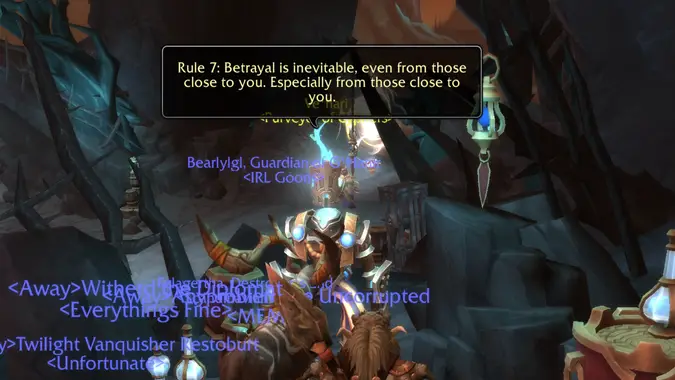 If you've finished farming reputation with Ve'nari — everyone's favorite Broker-with-highly-questionable-motives — you may have done the responsible thing and started banking Stygia in anticipation of patch 9.1. New patch, right? So that means new gear, and that means new slots you've gotta socket. Gotta plan ahead and think about these things. You're on the ball.
So it is my unfortunate duty to tell you: Don't bother.
We suspected this was going to be the case roughly a week ago: patch 9.0.5 tooltips were updated to indicate that Ve'nari's most coveted items (the Unbound Reality Fragment and Spatial Realignment Apparatus) were going to be capped at ilevel 226 and to season one items respectively. However, we now know that Ve'nari's interest in Stygia will wane, and there will be a new currency associated with the new items she'll offer in patch 9.1. You can still use Stygia to upgrade season one gear, but that's about it.
This isn't a huge surprise, because Blizzard has done something similar in previous content (notably Battle for Azeroth Azerite gear available from vendors). So if you're not already sitting on a pile of Stygia, don't worry; you won't be behind in patch 9.1. If you are sitting on a pile of stygia, feel free to socket your best drops and buy conduit upgrades; you won't be costing yourself any future purchases.