Why Darin De Paul should host every BlizzCon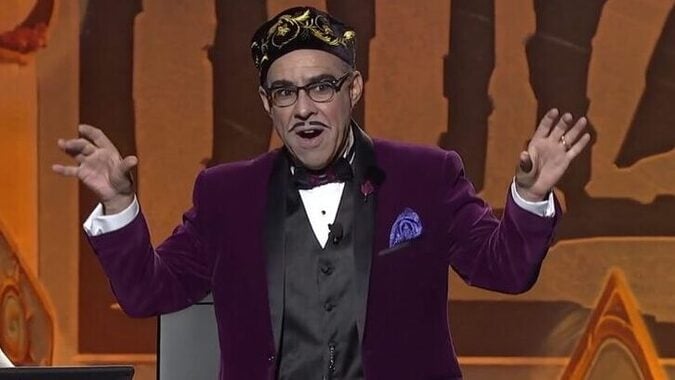 Here's a riddle for you — How do you fill up the cavernous space of the Anaheim Convention Center with the sound of boisterous laughter? For anyone who's tuned into the BlizzCon live streams in the last three years — or watched along with BlizzConline this year — the answer is simple: you hire Darin De Paul. Somehow this single man has a voice to rival Zeus, Odin, and a charging battalion of Orcs. Not only does he have the biggest voice, but he also has the stage presence to match. You can't help but have your eyes drawn to whatever he's doing. He's a fantastic host, and rather than keep changing around every few years, they should just permanently keep Darin on retainer.
Do you need an introduction for your next panel? Darin can come out shouting, "Candy!" and tossing bite-sized treats to the audience. Do you need someone to lead a march of cosplayers around your convention? Darin doesn't even need a megaphone, he'll make everyone in three blocks take notice. Despite being dwarfed by the Reinhardt cosplayer right behind him, he's still the biggest presence in the frame.
It's not all giant outsized performances though, Darin has a way of talking that can reach directly into your chest and tug on your heartstrings. This past year we saw the tragic passing of Jarod Nandin, best known for cosplaying as the South Park guy. During the BlizzConline Community Night, Darin introduced a tribute to him and did it so movingly I got misty-eyed before the tribute had even begun.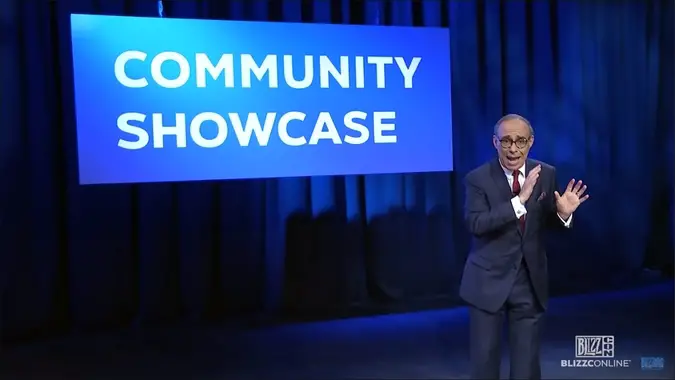 Darin De Paul isn't just a great host, he's a great host for BlizzCon
You can also go back and watch Darin's extremely intimate Stay Awhile and Listen panel from BlizzCon 2018. Watching that I felt like Darin and I were sitting in comfortable chairs in a richly appointed library, just having a casual conversation between two old friends — not just a casual conversation, a personal and emotional one, talking about how much Diablo 2 meant to him. Very few people can make that work through a computer screen even half as well as Darin De Paul can. He is just that effortlessly charming.
In the past, there have been a variety of celebrity hosts for the Community Nights. Chris Hardwick, Jay Mohr, Thomas Middleditch, and more have all tried their hand at hosting the event. But none have ever managed to strike the perfect tone that Darin De Paul has. He's lived and breathed Blizzard properties that he really knows his stuff, and how to make it interesting for the casual viewer. I guess it helps that he's voiced more than 75 different characters across all of the different Blizzard games.
All of the above just goes to show why he's the right man for the job. I've even heard him referred to as the Mayor of BlizzCon. I think at this point we should just make it official. I know I'd vote for him!