How to use Shadow Hunter Vol'jin in Hearthstone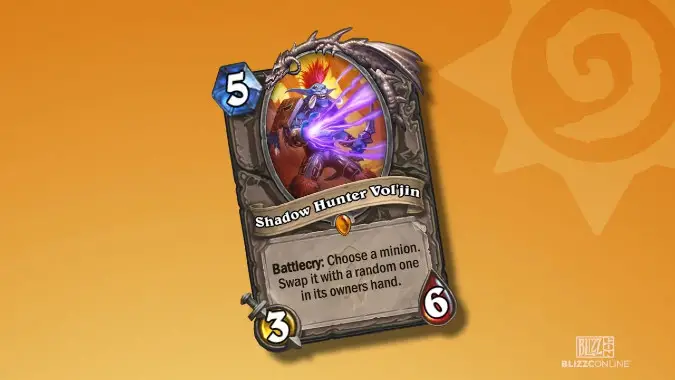 Everyone got it for free, and it's such a versatile card that it might find itself in a multitude of decks. I'm talking, of course, about Shadow Hunter Vol'jin, a Neutral Legendary minion from the upcoming Forged in the Barrens expansion set for Hearthstone, that is already live in the game. All players received this card for free (if you haven't just log on to claim it), and can use right now.
Shadow Hunter Vol'jin is a 3/6 minion that costs 5 mana and has the following effect:
Battlecry: Choose a minion. Swap it with a random one in its owner's hand.
Notice that it says just "minion," not "friendly minion" or "enemy minion" — which means that this Battlecry can be used both offensively and defensively. It's a powerful effect with a multitude of possible uses, that we'll talk about now.
Use #1: The offensive bounce-back effect
You can use this card to temporarily return an enemy minion to your opponent's hand, kind of like the Rogue card Sap does. This could be:
A Taunt minion that's in your way
Something that's too dangerous to leave on the board but you can't deal with yet
Something that costs a lot of mana and the opponent will need to play again, making them lose out on a lot of tempo
Use #2: The defensive bounce-back effect
You can use this card to return a friendly minion to your hand — much like minions such as Ancient Brewmaster allow you to do — so that you can:
Re-use its Battlecry effect, or any other effect it might have upon hitting the board
Heal it back to full health if it's taken damage
Save it from an upcoming removal effect or board clear
Use #3: Mana-cheating a big minion from your hand
This one is almost self-explanatory: You can use Shadow Hunter Vol'jin to bounce back a small minion from your board in order to replace it with a big, expensive minion that is in your hand (and you wouldn't have been able to play yet).
In fact, there are already OTK decks out there that combine Shadow Hunter Vol'jin with Malygos, in order to cheat out that Spell Damage +5 onto the board and still leave you with lots of spare mana to cast damaging spells at your opponent.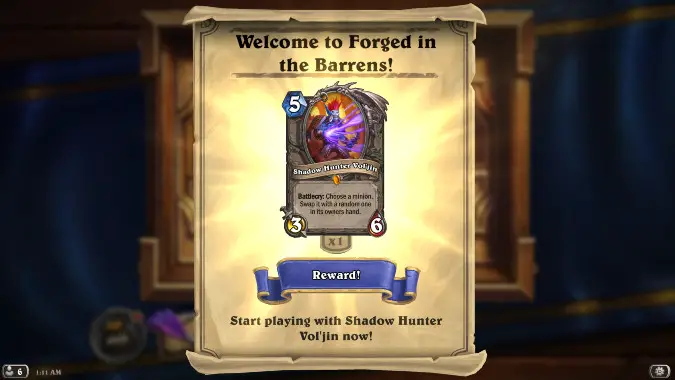 "You come get da voodoo!"
Seriously, you go get it! All that powerful voodoo is waiting for you right now in your Hearthstone game client — all you need to do is launch it, and you will be rewarded with this card as soon as you login.
I'm sure that, even outside of those crazy OTK decks — that might or might not work properly in a "serious" match — this is still a fun card to play with: All the different possibilities from its powerful Battlecry effect ensure that almost any player will be able to find a place for him on their decks, even if it's just for some fun.
Spirits be wit ya, mon!