The Queue: You're a Cyberpunk, Harry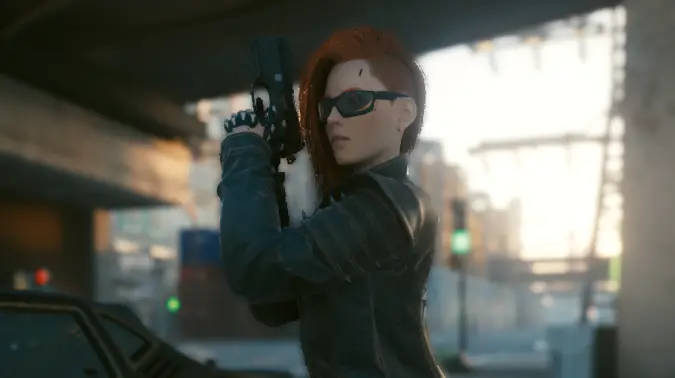 Nothing fancy to say, I'm playing the heck out of this game.
---
ARTHONOS WANTS PIRATE GHOSTS
I think it would be hilarious to meet one of the many villains we killed over the years, seeing their face as they come to the realization of us being their killers, and have them drop the first and only F bomb in WoW history. Because when it comes to ratings you get exactly 1 F bomb, if you use 2 or more it bumps the rating up.
I'm spending a lot of time playing a game with a lot of F bombs. Like, it's like a B-52 with swears replacing munitions. After a while you get numb to them. I swear a lot in my day to day life as well, so, ultimately I think WoW is better served without them. But if anyone was ever going to use one, I think it should be Garrosh upon seeing Thrall in the afterlife.
---
STRANGE THOMAS THINKS DRAGONS ARE FULL OF THEMSELVES
I think a future Shadowland zone will be for dragons, and that will lead us to the Dragon Isles in the next expansion. My head-canon is that dragons are too egotistical to think about adventurers as anything but rodents or vermin. They won't recognize us.
I am now of the opinion that we won't see the Dragon Isles for a long while, if ever. But I don't dispute that dragons are probably pretty arrogant. I mean, they're dragons.
My money for next expansion is a full scale invasion of the Void. It's time.
---
MYRAMENSGONE CONSOLES THEMSELVES ABOUT THE LOSS OF THEIR TASTY LUNCH WITH MUSINGS ABOUT NEFFY
Making my call now.
Nefarian is a boss in the Jailer raid.
I mean, we've seen Nef twice, I kind of feel like there are other characters who could show up — there's Malygos, Deathwing, Krasus, if we need a dragon boss there are quite a few dead dragons. Heck, remember Galakrond? Dude ate other proto-dragons, absorbed their life essence and barfed them back up as undead drakes who bedeviled the Aspects, he's a big candidate (literally, he was bigger than all five Aspects combined) for a return in Shadowlands if we need a dragon boss.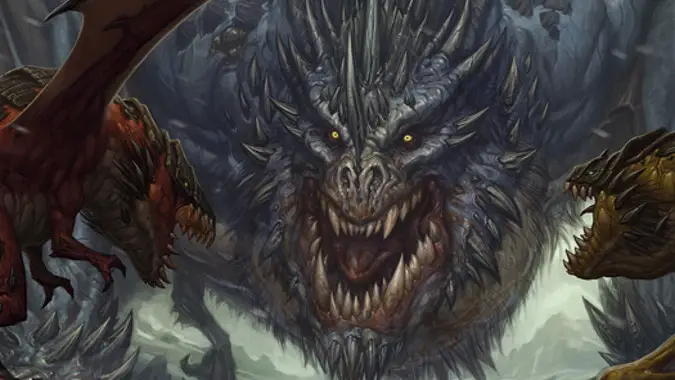 I mean, that dude looks like he means business to me.
---
TELWAR HAS A LITTLE TRANSMOG PROBLEM
Q4tQ:. Am I doing something wrong with transmogging an artifact? Every time I go to update my transmog, the saved set wants me to put the weapon to something else I had transmogged before going back to the Ashbringer.
It's not like I can't just hit the back button on the item and have it not transmog, but it's honestly annoying.
Don't use the Artifact section of your mog collection, go to the Two-Handed Sword section.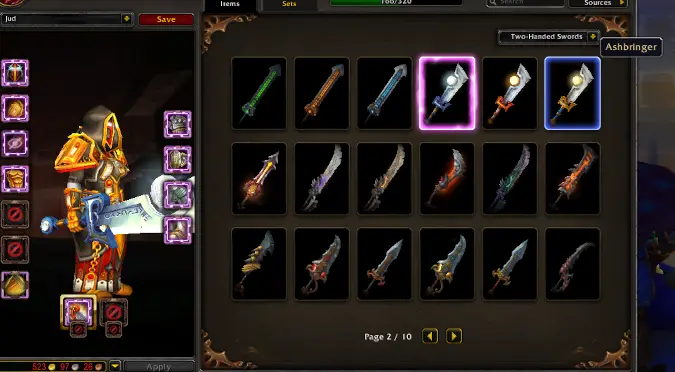 As you can see, my poor Dark Iron is too broke to apply the appearance, but she does have it saved. Just make sure to choose the Ashbringer from the Two-Handed Swords category, not the Artifact category. The Artifact version will transmog only when you're in Retribution spec and won't save to appearances, while the Two-Handed Sword version will save and can be applied over 2h weapons even if you're in Prot or Holy spec.
I checked it on my Draenei Pally and it worked fine for her too. Just make sure you apply the appearance from the proper weapon section — for the Holy Artifact mace, for example, go to Two-Handed Maces.
---
STEVE JABER ASKS A QUESTION THAT I FEEL UNQUALIFIED TO ANSWER
How do you react when you realize you aren't going to beat WOW? There's an inevitable point in every expansion where either the effort to reward ratio isn't worth it, there's not enough time, or you just aren't good enough. How do you deal with that?
I mean, I'm not trying to beat it?
I play WoW to have fun with friends, do some mellow casual raiding, and quest with my wife. I do the stuff that's within reach of that. I'm not trying to beat Mythic raiding, run super high keystone dungeons, or what have you. I'm just out here playing, doing some transmog and otherwise enjoying the game. I do what I want, and I don't worry about 'winning' or 'beating the game' — I don't think I ever did, even when I was in a progression raiding guild.
Okay, that's the Queue for today. See y'all next week.