WoW
Mar 10, 2021 10:00 am CT
How to get the Wandering Ancient Mount, even if you're not currently subbed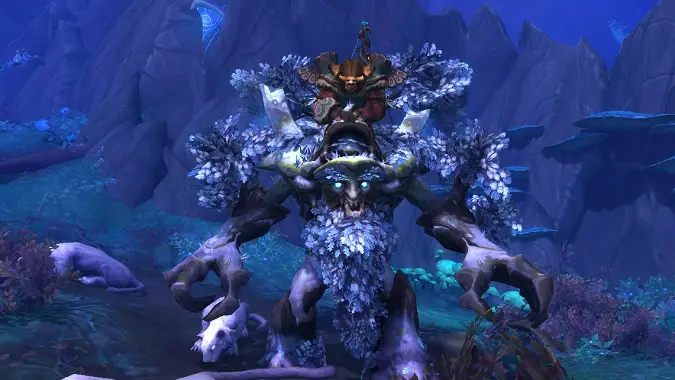 With the arrival of Shadowlands patch 9.0.5, World of Warcraft players are beginning to receive the winner of last year's mount poll, the Wandering Ancient. Since there apparently some technical issues with the delivery of the mount, some players are justifiably concerned that they haven't received it.
The most important criteria for receiving the mount is to have a Shadowlands license on your account; if you've only purchased the base game in order to play WoW Classic, you are not eligible to receive it. Also note that even if you have a Shadowlands license on your account, you will not be able to unlock or use the mount in Classic.
Unlike previous gifts sent to us by Blizzard, you do not accept the Wandering Ancient via the Battle.net browser, nor do you need to have access to a mailbox to receive it — which is great news if you're currently taking a break from the game.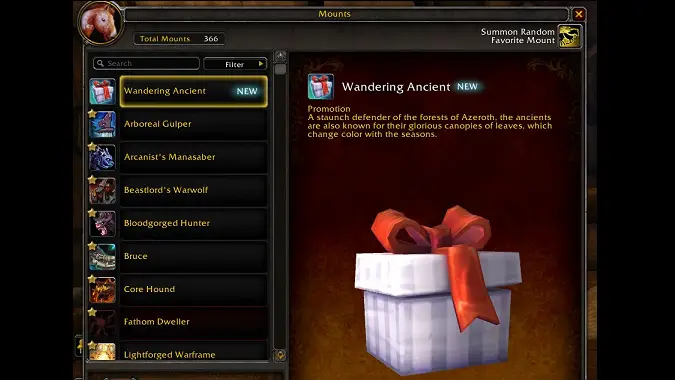 Even though it wanders, this ancient mount is always found in the same place
To unlock the Wandering Ancient, you'll need to go to the mounts tab in the Collections interface in-game. As shown in the screenshot above, the Wandering Ancient will show as a gift at the top of your mount list, and you'll just need to hit the Unwrap button for it to be added to your account. Once unwrapped it'll stay at the top of the list until you close the Collections window, so you can favorite it or mount up — if you're outside, of course — without scrolling down for it.
For players that are currently not subbed, you still have access to unlock it. Just open the retail game and log in to any level 20 or lower character — it doesn't matter if the character has learned riding skills yet — and follow the same instructions. If you don't have a low level character, you can simply create a new one.
Since there is a delay in distribution, don't panic if you don't see it right away; Blizzard is expecting it to take a few days for every player to receive the Wandering Ancient. If you don't see it before the next weekly reset, then you may want to get in touch with support if Blizzard hasn't indicated there are still issues with the rollout.
Now you'll have your own ent with which to terrorize wayward wizards in their tower; might I suggest a visit to Karazhan to wake up Khadgar? We could really use his help.