The Queue: Glitteriffic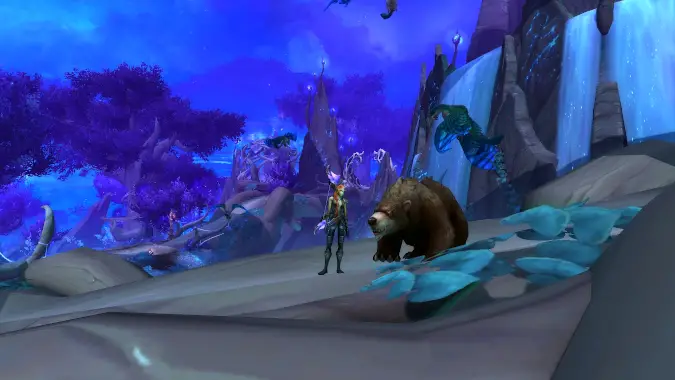 Ardenweald has no right to be this freakin pretty.
This is The Queue, where we're just hanging out admiring the view, so we'll answer any questions you may ask.
---
PIDIA
Q4TQ: Do you wish hunter pets were entirely cosmetic or do you prefer the current system with family abilities and the three specializations? Sometimes I wish I could just use whatever pet for the looks but think it ruins some of the depth of pets. Plus it would make exotic pets pointless.
…yee..es?
I would love it if Hunter pets had a bit more depth, but at the same time I acknowledge that in terms of complexity, many (most?) people are just looking for a conclusive simcrafted answer, like "go tame a Sporebat" and those two things are tough to untangle. In particular, the number of variables — do you need to tame two Sporebats, one learning a DOT for bosses and another with an AOE?
I like the idea that I could just use Rutherford for everything, but I do feel like having a tiny bit of complexity with pets is a part of Huntering, even if it's the relatively minimal amount we have now.
I'll also say that, in terms of development time, any additional complexity added to Hunter pets is time taken from some other feature. Much like the imbalance between how devastatingly cool the Ember Court seems as opposed to the other Covenant features, I'm not sure I'd want pets to be that much more complex because it increases the dev time spent on Hunters unduly.
But as a Hunter, heck yes, give me all your time and attention.
---
@PHAROAHFUZZYB
What are your thoughts on the continuing Anima shortage especially in light of Denathrius's defeat?
I like the idea narratively, but in practice it feels like I'm trying to bail out the ocean with a thimble.
The whole story of the Anima drought is a compelling one, and it reflects closely on the idea of mounting resource scarcity in real life. People are fleeing, people are invading their neighbors, people are hoarding what they can in exchange for power, deposing rightful leaders in the process. But then once the story is over and I'm the one trying to squeeze out every last precious drop, it stops being a charming allegory and starts adding to my personal daily tedium.
I do hope that, now that we've taken out Denathrius, we've started to turn the taps back on.
---
@REDLIKETHESUN
Q4Anna: what do you think about the fact that 9.1 might only be released in late July / August? Is that wait too long, or is it fine? Will it be okay if patches take that long from now on?
Do you remember back in 2008 when all of a sudden a whole lot of shows turned to garbage? Disjointed narratives, shortened seasons, because of a writers' strike (which really highlighted just how hard the writers were carrying the entire industry on their underpaid backs)?
Yeah, this is the COVID version of that.
I don't think late summer is ideal, but I think that's probably where we're at. I don't think we'll be happy with a patch we'd get sooner than that, either. But I also think that's an especially long time to hang on through a non-anima-related drought, and I definitely don't blame people if they'd prefer to unsubscribe and chip away at their Steam library over the summer.
---
@THE_KUNKA
Could we possibly be doing a 'council fight' in 9.1 that could be The Lich Kings? Arthas, Anduin, and ones from other worlds?
I don't think so, just because the relative narrative importance of both Anduin and Arthas make it so I'd assume they'd want each to be distinct. But man that's a cool idea.
That said… now that you've said that, I'm thinking we may get a demi-redemption moment where Arthas empathizes with Anduin, in the vein of, "if anyone understands, it's me. You must resist him." After all, there's probably a reason they reintroduced him to the forefront of the action beyond, "hey, remember that one expansion everyone liked?"