WoW
Apr 8, 2021 2:00 pm CT
Ve'nari rep is now account-wide, so your alts can now enjoy bonus sockets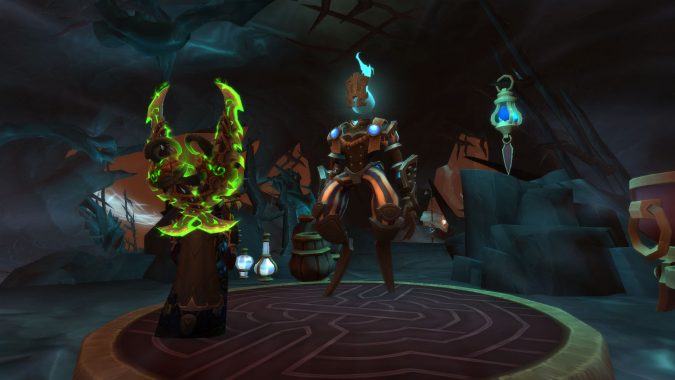 Getting reputation with Ve'nari is a grim necessity we must all endure, because we all want sockets on our gear for gems and so forth. However, until recently, if your alts wanted a socket or a conduit upgrade — things Ve'nari sells — you had to get that reputation up on each and every alt that wanted such items. Cue sad trombone noise here.
And now cue happy trombone noise, because Merciful Poseidon has heard our laments, and he has answered them, for reputation with the notoriously shifty Ve'nari is now account wide. Yay for Merciful Poseidon! And double yay for the hotfix that makes Ve'nari much less irritating for those of us on multiple characters trying to keep our gear up, in a really very nice change that's a godsend for my third and fourth Warriors.
APRIL 6, 2021
Items and Rewards
The ability to purchase items from Ve'nari is now unlocked for all characters on your account based on the character with the highest reputation. To gain access to purchasing the items across all characters on your account, you must log into the character with the highest Ve'nari reputation.
So get on whichever of your characters has the highest reputation with Ve'nari, because the game needs you to do that so that it can tell how high said reputation is, and then you can leap to each of your alts in turn, spending the Stygia they've been gathering in the Maw and from the Great Vault if you've been getting unlucky on gear drops for them. So it's a win because you don't have to grind yourself into a fine ashen dust getting Ve'nari to like yet another character and all that Stygia rotting in your currency tab on your various alts serves a purpose at last. You'll still have to get at least one character's reputation with Ve'nari up, but compared to doing it six or eight or twelve times, once is a huge improvement.
Make sure to log on your character with the most rep, though. Don't be like me and curse Poseidon when it seems like it isn't working, only to remember you ground out Ve'nari rep on your other Warrior.