The Queue: they screm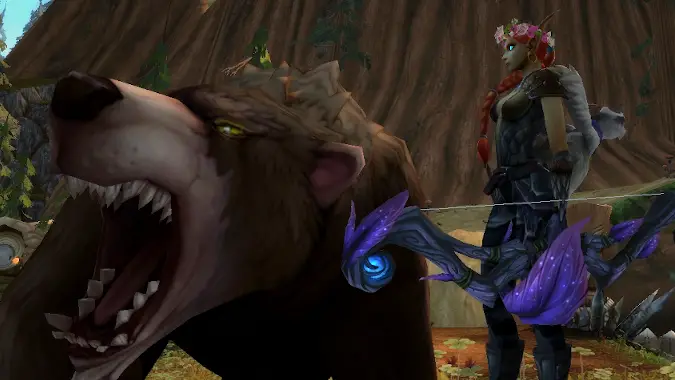 Rutherford was just a little bit jealous at first, but now he and Daisy are practically best buddies. I'd be really excited about this, but apparently they're having another of their zany screaming contests! So glad they're bonding over being loud!
So. Glad.
This is The Queue, where you ask us questions and if we get a quiet moment to ourselves we'll answer them.
---
FUZZYBUNNY
Do we know how Denathrius sired the Venthyr?
Sprinting past that PG-13 Barrier early today are we?
---
ABOMINABLE ROXXII
Q4TQ: What is the best Soulshape for a female Wildhammer Dwarf Ele shaman?
The obvious choice is the gryphon soulshape, which is obtained randomly by doing rated Arena and Battlegrounds. The few people in the Wowhead comments who recorded their data reported they got theirs after a win, so it's not even as easy as "tank rating, receive soulshape." So, this one may be a goal, but even though usually I'd encourage you to just jump in with both feet even if you don't like PVP, if you're PVP-averse you may have a hard time getting this one.
A second runner up might be the lupine soulshape, but that requires rep with Court of Night and costs Anima, and in general I'd really discourage people from using Anima on anything but increasing your Covenant features until you get max gains. I don't regret buying my bear soulshape per se (but I kinda regret buying the bear soulshape). Speaking of, the bear might be another good option, were it not for the whole "costs Anima" thing.
The one I might suggest is the one that drops in De Other Side, the raptor. It seems a little off as far as Wildhammers go, but there are raptors crawling all throughout Dwarven territory, from the Wetlands to the Hinterlands. It's not too far a stretch to think a Dwarf might've grown up around them and felt a kinship.
---
SIBYLLE
Q4tQ: Did I miss it, or are there really no titles (for the player) associated with reaching exalted with one's covenant? Seems like a missed opportunity.
There are titles for reaching Renown 40, which is like a rep grind where you're forced to do story beats instead of just grinding World Quests. All the rewards are detailed in this post from our friends at Wowhead, but the titles are:
(Rutherford), Winter's Envoy – Night Fae
Baron/Baroness (Rutherford) – Necrolords
Count/Countess (Rutherford) – Venthyr
(Rutherford), Hand of the Archon – Kyrian
Yes, my bear is exalted with all factions. I'm not sure why that might even come as a surprise.
---
ARTHONOS
Q4tQ: How would present you feel if you got a message from future you saying that anima drop rates in 9.3 were increased to 1,000-2,000 per token?
I would feel incredibly relieved, and less like I wasted anima on that damn bear soulshape.
Honestly, the idea that the stuff we do now only rewards us somewhat temporarily, but we'll be able to grab whatever we want toward the end because we'll "fix" the anima drought is a comforting one. For that matter, the idea we'll actually fix something instead of just shrugging and moving on is kind of a comforting one as well — hey guys, remember how the planet got stabbed and we didn't actually do anything about it except scrape the blood from its wounds and shove it in a necklace? That's some serial killer nonsense.
I get why people might then feel like any current grind may be futile, but I'd much rather buy, say, all the soulshapes but not feel obligated to pick up all the transmogs now. We'll definitely carry the transmogs forward, but soulshapes are unlikely to come to the next expansion, so even though I love all things bear it's clearly "bad" to pick up that soulshape. If I knew I'd be able to get scads of Anima later, I'd probably pick up the moose too.
---
GALDWYNN
Q4tQ: What's your favorite lofi hip hop beats?
All the previous answers are wrong. Have you met Jay the Bard?