You don't want me to tell you the odds of winning the A Chance Encounter Tavern Brawl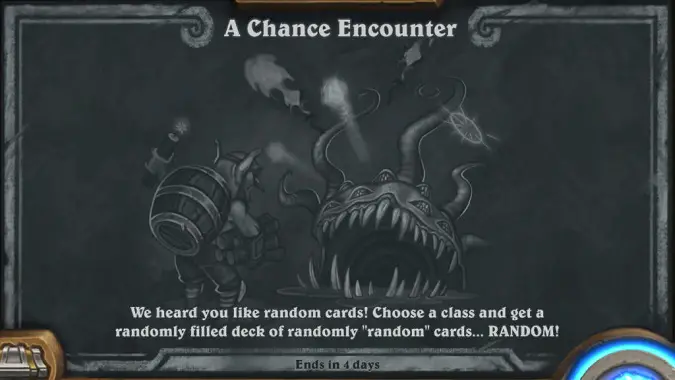 Randomness returns in a big way in this week's Hearthstone Tavern Brawl: A Chance Encounter. The name hearkens back to Hearthstone's most famous (or infamous) random Brawl: Encounter at Crossroads.
So find all your rabbit's feet, horseshoes, and whatever other good luck charms you can find. As Han would say, "Good luck, kid. You're gonna need it."
Tavern Brawl basics
Name: A Chance Encounter
Description: We heard you like random cards! Choose a class and get a randomly filled deck of randomly "random" cards… RANDOM!
Fun level: 3/10
Difficulty: 5/10
Replayability: 9/10
Format: Wild
Type: PvP
Deck: Provided
Rewards: 1 Year of the Phoenix pack
This Brawl returns with the glorious (or frustrating) RNG that Tavern Brawls are known for. Different Brawls will appeal to different segments of the player base. The size of your card collection doesn't matter in this Brawl, as the deck — the very random deck — is provided. What remains true is the RHBA (Random Hearthstone Brawl Autotext): "You'll find everything from Legendary cards to Basic cards in your deck. You'll have some class cards and some neutrals, but there are no strict ratios — it's all random."
Despite the randomness, I noticed many of the same minions played game after game too often to accept as pure randomness. With the necessary caveats to sample size and apopehnia (the human brain's propensity to see patterns in randomness), I do wonder if there is some subset of cards the decks are drawing from.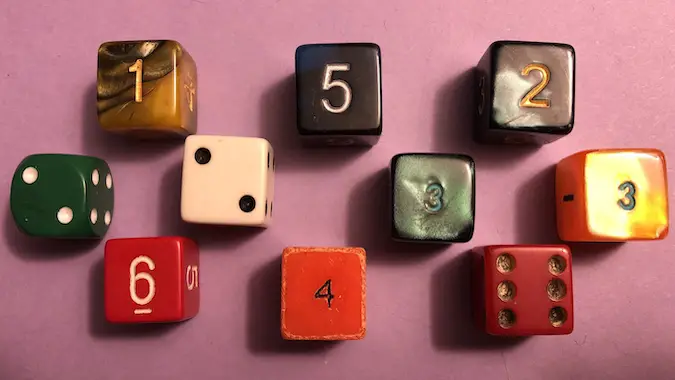 How to win the Chance Encounter Tavern Brawl
Playing this Brawl requires an Arena mindset where good trades are key. Don't hesitate to drop a minion for pure stats, even if their effect won't go off, like effects that trigger if you're holding a dragon or the like. You have no idea if you'll have a dragon in your deck to ever trigger it.
Your normal strong Arena classes like Mage and Paladin are good choices. Mage has the most flexible Hero Power in the game, and Paladin has the most consistent. But any class can win with a strong enough deck — and you won't know for sure if you have a strong deck until you start playing.
The decks are minion heavy with limited opportunities to reset the board. Your opponent will have some class spells, but it should be fairly safe to commit to a wide board without fear of AOE. Try to mulligan for a good curve so you a minion to play on turn one, turn two, and turn three. Don't be afraid to concede early if it looks like things aren't going your way.
If you want the card pack, just keep queuing up. Eventually, you'll get a strong deck and overwhelm your opponent.
May the RNG dice be in your favor and just roll with it, baby.
Originally published 5/6/2020, updated 5/5/2021