WoW
May 10, 2021 4:00 pm CT
Soon you'll be able to send Soul Ash to your alts (or from your alts) for faster Legendaries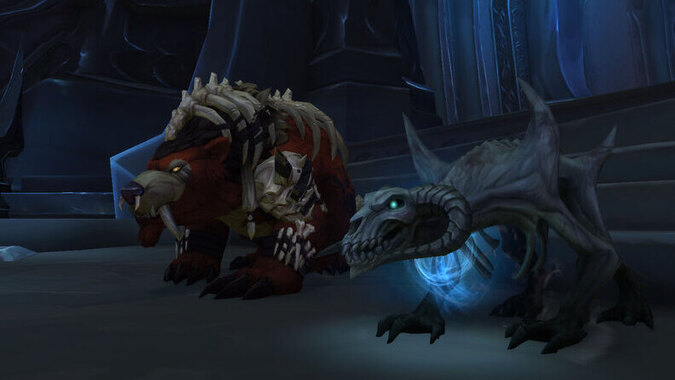 So, you have a lot of alts, and you're having trouble getting enough Soul Ash to get that Paladin the right Legendary. Well, now your Mage, your Warlock, your Priest, and your Monk can send the Soul Ash they have acquired to any of your other characters via a new item called Packaged Soul Ash. That means that you can concentrate your farming efforts and get that belt or ring you wanted much, much easier.
Packaged Soul Ash does cost you a bit of Soul Ash to send, so it's not a one to one transfer. On the PTR currently it costs 1500 Soul Ash to get 1300 Packaged Soul Ash you can send to an alt — though you have don't have that much Soul Ash, it costs 300 Soul Ash to get 250 Packaged Soul Ash. But there's one more catch: Packaged Soul Ash is sold by the Broker vendors inside Torghast, and you can only buy one per run. So you can't just transfer your Soul Ash: you'll have to do some Torghast runs to send it to any of your alts.
This is similar to how War Resources could be sent to alts in Battle for Azeroth, but while there's an added cost to doing so, it does mean that if you have Soul Ash on characters who don't need it — if, for example, you're spending a lot of time running Torghast on your Blood DK who has the Legendaries they want, but you want to craft a Legendary on your Mistweaver Monk but she's low on Soul Ash, you can now send the Soul Ash from Deathicus and Healywoo will soon be rocking that Legendary breastplate she wanted.
For those of you with an army of alts, you could run four or five characters through Torghast and ship enough Soul Ash in a single week to immediately craft a rank 4 Legendary, or just offload the Soul Ash from a character who is already flush on Legendaries to a character you just got to 60, making their first Legendary easier than ever to obtain. Since we're getting Soul Cinders which will be used for  rank 5 Legendaries and above in patch 9.1, this makes it easier for you to use your alts to get your main's Legendaries up to rank 4 as well, making that easier too.
I can see a downside here for people who don't have a bunch of alts and now feel like they have to get them and run them through Torghast every week, but if you're doing that already, this is a pretty nice change.