WoW
May 10, 2021 2:00 pm CT
In patch 9.1, you'll be able to spend your extra Phantasma on cosmetic shoulders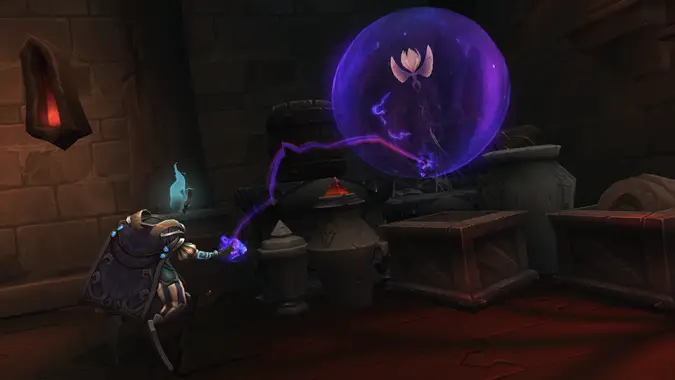 Once patch 9.1 is released, you'll finally have something to spend your Phantasma on that you can take home with you from Torghast! Cosmetic shoulders with a look that mirrors the general aesthetic of the Tower of the Damned — there are so many flavors of metallic shoulders with spikes to choose from! — are being added to your friendly Broker vendors in the tower.
Among the many, many different currencies introduced with World of Warcraft's Shadowlands expansion is Phantasma. This ghostly substance is accumulated and used only within Torghast, in order to purchase extra powers and temporary items. But once you leave your current Torghast run, all your Phantasma disappears — so you might as well just spend it all. Sure, all currency in an MMO is "fake currency" — but Phantasma is even more ephemeral than the usual.
So, in patch 9.1 whenever you find yourself acing a Torghast run — perhaps you are already so overpowered that you're demolishing bosses left and right, and find no need to spend that currency getting even more powerful — you might be able to spend your hard-earned phantasmagoric money in a fashionable souvenir.
In my opinion, this is yet another fantastic change coming to Torghast in patch 9.1, among many others. But of course, we'd still love to see more. Why stop at shoulders? I'd be more than okay with seeing this collection of cosmetic items purchasable in Torghast being expanded to full armor sets. And, perhaps, to other types of rewards — why not also add pets, or even mounts, to these vendors?
Sure, there is also the potential problem that it's hard to add expensive rewards to be purchased with a temporary currency that players can't farm and accumulate. It wouldn't be "fair" to have a mount costing so much Phantasma that you can't reasonably gather it all in a single run — and it wouldn't be fair to have a reward like that cost as little as a single piece of transmog either.
However, there are several possible solutions to this problem: perhaps a small subset of the items offered by a Broker vendor could be randomized for each run. For most runs, you'd see a transmog piece, but if you're lucky, you might stumble upon a mount being offered in there, and immediately nab it. Or, perhaps, the Brokers could also sell a cache — similar to Paragon caches from reputations — that would offer a small selection of goodies, while also having a small chance to offer a very good reward like a mount.
Whatever the case — and whether they decide to eventually expand this system or not — the addition of cosmetic shoulders to Torghast runs is already a very nice step in the right direction. Hopefully Torghast will be made more and more worthwhile to run as Shadowlands goes on.