The Queue: Do si do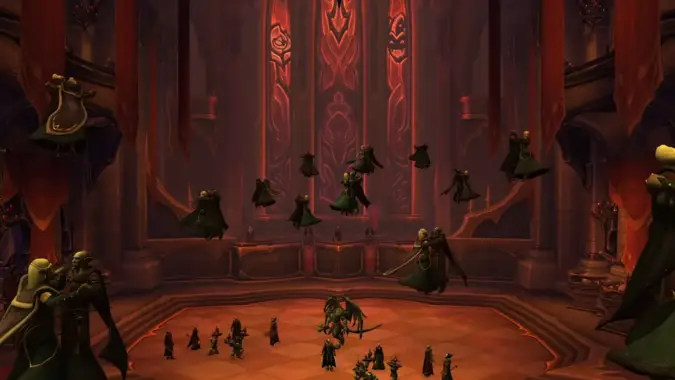 We're fifty pulls into our Blood Council mythic progression. I still stand by my statement that all of the fight mechanics are super fun, but I'm super ready for the next patch and the raid to arrive. One good thing has come out of our time spent being killed by these fearsome party-goers though, now whenever my tank partner and I need to do a swap we say "do si do."
While I practice my dance moves, it's time for — The Queue.
---
WAKE UP IN THE MORNING WITH A TETSEMI LIKE WHAT YA DONE
Question for Blizzard Watch – Sequel/Expansion system changes. Coming from Mass Effect 1 to 2, they changed the weapons from using/radiating heat to using ammo clips. They also (and I'm working backwards), wanted an upgrade system with a currency to buy after discovery, so they figured planetary resources. But they reduced the number of planet missions (Mako) from ME1 to ME2 so they had to come up with a different acquisition method, hence the active player planet scanning system to get resources.
Neither of these changes really felt like they made the gameplay better, just different, to me. What systems in Blizzard games have gone through the same arc (change but not improved) or got better in the expansion/sequel game?
The mission table.
Sure the Garrison one was large and maybe a little too involved with the potentially 25 different champions that you could have active at once, and dozens and dozens more that you could recruit from the Inn. But then they trimmed it down in Legion and it was a pretty great system. The rewards from the missions weren't as lucrative as all of the gold that you could extract each day with treasure-finding champions, but there was still some good stuff there! I really liked being able to equip my followers to maximize success based on length or countered abilities.
Sadly the Battle for Azeroth and Shadowlands mission tables have just not done it for me. Battle's is too stripped down from the Legion one and Shadowlands is a good idea in theory, but not really as fun in practice.
---
THIS USED TO BE THE MISTAH JAY BUT I DON'T NEED ANOTHER ONE
2BE: MaleShephard vs FemShepard
FemShep all the way. I love Jennifer Hale's acting for the game, so I almost always have chosen her. The only thing I miss while being FemShep is that there isn't a Jack romance option in Mass Effect 2. We'd make such a great pair!
---
SO HOW COME DOMEHAMMER FEELS SO LONELY WHEN YOU'RE UP GETTIN DOWN?
If you could take a stack of consumable from WoW into the real world what would you pick?
Just a single stack doesn't allow for much in the way of life-changing effects. Sure you could win a few Olympic medals if you had a stack of swiftness potions or strong man competitions with strength potions, but they'd be hollow victories. What with all the cheating that would be involved by drinking magical potions to get fantastical abilities.
What I want is a stack of the Weighted Jack-o'-Lanterns from Hallows End. Imagine how confused someone would be if they were walking down the street and when bam — pumpkin on their head. I would only use that power to annoy, and it would be glorious!
---
SO ARTHONOS PLAYS ALONG WHEN THEY HEAR THAT FAVORITE SONG
Would it be neat if Blizz allowed players to place down their own treasure chests, with whatever loot or however much gold they wished? Would certainly make it interesting to retire and leave a riddle advertising a hidden chest with millions in it.
That is a neat idea, I'd love to see some in-game player scavenger hunts. Provided that the chests weren't too obtrusive or anything, maybe limit how many could be placed in the same little area at once. Otherwise, people would probably use them to spell out bad words or advertise for gold selling websites.
Of course, what I really want is for Blizzard to step it up and start doing real-life scavenger hunts like Bungie has done in the past with Destiny. Imagine if by following some strange writing in the new raid you could piece together a coordinates location and go and find a replica of Sylvanas' bow or Anduin's helmet? That'd be the epitome of cool!
---
RED IS GONNA BE THE ONE THAT GETS IT RIGHT
Q4TQ: do you remember when you hit max level in WoW for the first time? What xpac was it, what race/class were you playing, and what zone were you in?
Me: BC, hit 70 in Blade's Edge Mountains, on my Human Mage.
I know that my first level 70 was my Draenei Holy Paladin Zelia in Burning Crusade. I don't remember what zone I was in though, I assume it was Nagrand — maaaaaaybe Netherstorm.
I do remember that I was proud that I leveled the whole way as Holy. Also, I remember taking a bunch of time out while I was leveling because I heard that I could get a Black Dragon pet from the dragonlings in the Badlands. I'm still haunted by the ghosts of all those whelplings I killed trying to get that.
---
BUT QUEEN DILLENE DON'T FEEL LIKE DANCIN' WHEN THE OLD JOANNA PLAYS
Is it morally wrong to grind Timbermaw Hold rep while on a conference call?
Morally? No, conference calls can be really boring, especially if you've already talked about your field of focus and everything else being discussed doesn't affect you.
Ethically though, you're going to have to live with all of those cute Timbermaw's deaths on your head.
---
TELWAR'S HEART COULD TAKE A CHANCE BUT THEIR TWO FEET CAN'T FIND A WAY
QftQ: Do we know if there are going to be more buildings/improvements to the Covenant Sanctum for 9.1?
We haven't seen any news or data mining about Blizzard adding more buildings or ranks for current buildings. So right now, especially at this stage in the PTR I would assume that we're not going to be getting anything for our Sanctums.
It's possible that they always intended the first batch of upgrades to take us until patch 9.2. Obviously, we'll be in these first patches a bit longer so players have been able to complete everything. At the rate I'm going to need all of the time up until 9.2 to finish buying everything I can with Anima.
If they did add new ranks, I can think of a few things that would be worth dropping Anima on. Like a Transport Network that gave us portals to all of the other zones from our Sanctums, or the ability to invite Jaina/Thrall/Baine/Bolvar to my fancy Ember Court parties. They've suffered enough in Torghast, let me throw them a fancy party to help take their minds off of things! If at the end of that party Jaina has had such a great time that she wants to give me a fancy recolored version of her water elemental for a mount — well that's her business.
Today's Anna Earworm™: I Don't Feel Like Dancin'
Don't forget to leave Anna lots of questions for tomorrow, and tell your pets that I said — hey.