Stranger Things is getting a podcast all about the best character from the third season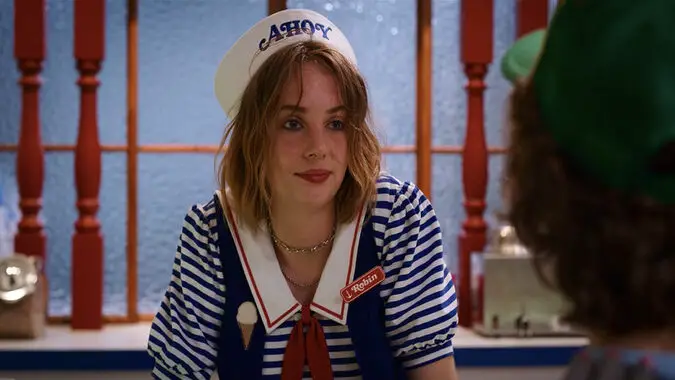 Are you ready to take a trip back to Hawkins, Indiana and all of the strange things that have been happening there? Netflix has you covered! They've announced an official Stranger Things tie-in podcast called Surviving Hawkins. It will focus on everyone's favorite ice cream slinging teen — Robin Buckley. Maya Hawke will be reprising her role as Robin from the third season of Stranger Things and will be joined by Sean Maher, who you may remember from a little show called Firefly. The podcast will have six episodes total and be available from all major podcast locations starting on June 29th.
The series will focus on Robin as she navigates high school and will be a companion piece to an upcoming novel also releasing on the same day. High school is a monster that chews people up and spits them out, and there might also be a literal monster — this is Hawkins after all. Robin was my favorite character from season three, so this is pretty much a dream come true. With no release date for the next season of Stranger Things anywhere to be found this will help us whet our appetite for the weird happenings of that small town.
What I'm most excited about here isn't just a return to the universe of Stranger Things — although I am excited about that. I'm excited to see another project from the writer and director Lauren Shippen. If there are rockstars in the world of podcasting Lauren Shippen is one of the greatest. Lauren and her production company Atypical Artists have been one of my favorite podcast producers for a long time.
Her series The Bright Sessions is a series of therapy sessions between a therapist and her patients, only the patients all have superpowers. Along the way, they learn to control their gifts and deal with the sinister agency that wants to exploit them. It's an intimate look into how messy having superpowers would be in real life and a nice change of pace from the more typical superhero fare. The sixth season of the Bright Sessions is called The AM Archives and has been a master class in building tension and proper pacing. This isn't Lauren's first foray into the world of big-budget tie-in podcasts either. She was the writer of the Marvel studios podcast Marvels, a series focused on reporters from the Daily Bugle investigating and reporting on a massive battle between Galactus and the Fantastic Four.
I love podcasts as a medium for expanding on these big properties. They offer such a great look around the edges of the things I love, expanding on the universe with grounded looks into the character's daily lives. Sure I love watching them save the world, but I also just love hanging out with them while they grab a coffee. There are always characters that never get enough time in the sun, and tie-ins like these really help to show us why we fell in love with them.
Imagine how great it would be if we got a podcast featuring Flynn and Shaw's adventures from World of Warcraft, or got to spend some time with the Gnome and Goblin who fell in love, Sapphronetta and Grizzik? Telling a smaller-scale story like that could really help to balance out the giant world-ending consequences that our characters always seem to find themselves facing. Blizzard, if you're paying attention you should look into that.
In the meantime, I'm just glad that I'll get to listen to more from Stranger Things.