Cosmetic skins and new Bartenders are coming to Hearthstone Battlegrounds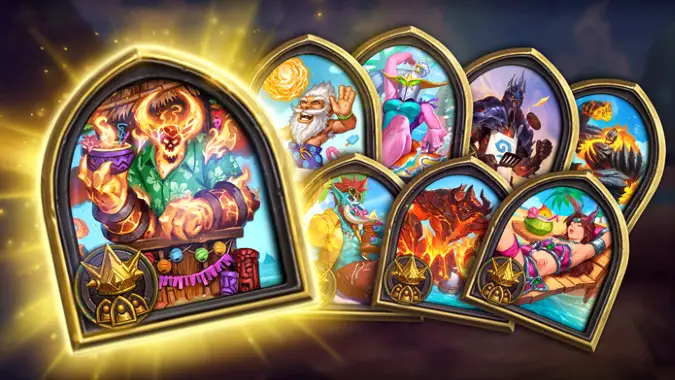 I've been saying for a long time that Hearthstone could use more cosmetics — and, thankfully, it looks like that's exactly what we're getting. Two new types of cosmetic features are coming to Battlegrounds: skins for your playable heroes, and brand-new, fully-voiced Bartenders!
Systems Game Design Chadd Nervig — better known as Celestalon — has tweeted about this, saying that what they've just announced is only the beginning, and there's even more to come:
The thing I'm personally most excited for besides the overall new expansion hype, is the Battlegrounds cosmetics.

Having RAGNAROS as your Bartender is just so much fun. And @matthewmercer knocked it out of the part with the voice lines. pic.twitter.com/Vix1HcrUzO

— Celestalon🎁🌙 #ABetterABK💙 (@Celestalon) July 1, 2021
Your Battlegrounds Heroes can now equip Skins
As a starting point, we'll be getting two bundles: one with the Beach Party theme, and another with a Shadowlands theme. We don't know yet what the pricing will be for these bundles; only that they'll go live on July 27, once the Fire Festival event (which just started today) is over.
These are the heroes that will be included on the Beach Party bundle:
Ragnaros, Tikilord (it's unclear at this point if he'll be available as a skin for the Ragnaros hero as well, or just as the Bartender replacement)


Chillin' Vol'jin

Flexfire Tickatus

Grill King Bolvar

Pool Party Maiev

Volcanic Chenvaala

Pyrospike Millhouse

Sunlounger A.F.Kay
As for the Shadowlands-themed bundle, it will contain these eight heroes:
Finley of the Kyrian

George the Ascended

Ysera of the Night Fae

Faewarden Omu

Necrolord Patchwerk

Margrave Baz'hial

Venthyr Tess

Chained Kael'thas
You can get a small preview of what these skins look like by taking a look at the official article. (It's not much, but it's certainly amusing to see the Lich King grilling burgers, or Finley being carried by an adorable Steward.)
You can give Bob a break, and replace your Bartender with other characters
We're getting two new bartender options! They'll fully replace Bob, both in art and in voice lines, likely giving you a completely different experience from what our favorite (and only) bartender currently does. Sure, Bob is extremely wholesome and hard to hate (unless you're some kind of monster), but even wholesomeness can get overwhelming after some time, right?!
Besides, the voice talent that they have for these two skins is nothing short of amazing. Ve'nari — who you may already be familiar with from World of Warcraft — is voiced by Aysha Selim who is also the voice of Ana Amari in Overwatch. Meanwhile, Tikilord Ragnaros is voiced by none other than Matthew Mercer, the voice of McCree in Overwatch among so many other roles across several Blizzard games — and beyond.
You can acquire Ve'nari either by pre-ordering the Mega Bundle for United in Stormwind, or as a standalone purchase — she's available for pre-order in the shop right now in both forms. As for Ragnaros, he'll be added in the same Beach Party bundle that adds the hero skins above.
All in all, I'm super excited for these new cosmetic options, and eagerly awaiting to play with them — as well as knowing there's more to come!