How Diablo 3's new Ethereal weapons will work in Season 24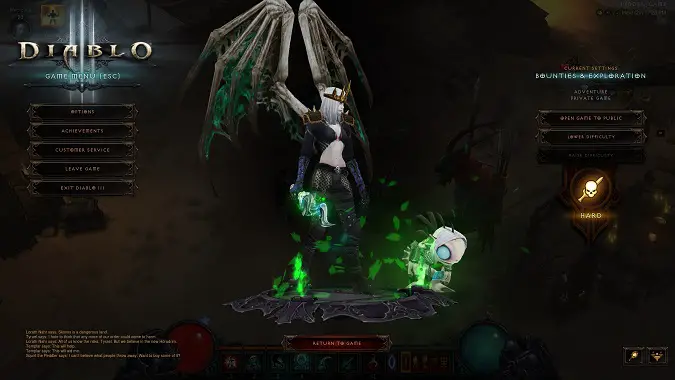 Season 24 is here! This Diablo 3 season is a special one, as the entire theme of Ethereal Memory is in honor of the upcoming release of Diablo 2: Resurrected. But will Ethereal items be the same as their original Diablo 2 counterparts? Let's find out.
Here's what we know about how Ethereal items work:
Ethereal items are only here for the duration of the season. The preview blog describes them as "rare, powerful, and fleeting items." They will not suffer from durability loss, but they also only drop during the season. When the season ends, they're gone. However, once you collect an ethereal, it will live forever in your transmog options. (Provided you unlock them with a feat of strength.)
Ethereals are drop-only, and they will drop at any level. This is one of the few times we can't blame Kadala, folks. You cannot get them from Kadala or upgrades through Kanai's Cube, so they won't show up as part of your start-of-season process. Luckily, they're level-agnostic — you could see one drop for your level 1 Barbarian from a random chest! But, maybe don't hold your breath on that with the drop rate "set between Ancient and Primal items." You'll still need to wait for level 70 to see an Ancient version drop.
Each class has three options, but you can only equip one at a time. Sorry, Barbarians, no dual-wielding your two one-hander options. We will see some familiar names in the Ethereal pool during Season 24: Demon Hunter's Windforce, Witch Doctor's The Gidbinn, and Wizard's The Oculus are just a few examples of existing D3 legendaries that will get an Ethereal glow-up for this season.
The power combination is entirely random. The legendary power that rolls on your Ethereal could come from any of your class' pool of weapon legendary powers — this included class-specific off-hand options as of the PTR — and any of your class passive skills. Your Ethereal's powers will not stack; no picking your Scythe of the Cycle in Kanai's cube and doubling its strength with an Ethereal.
Ethereals can only be augmented. Meaning you cannot do the following: Cube the legendary power, reforge/enchant to re-roll the item stats, trade, dye, or transmog. What drops is what you get. You can use Ramaladni's Gift to add a gem slot.
Seems like a lot of restrictions, right? And definitely more "influenced by" the D2 version of Ethereals than the reality of them. But I promise it's worth it. Ethereal items are so strong — it's a real rush to see the sheer damage you can output with one equipped. Get out there, melt some faces, and don't forget about the "Ethereal Recollection" Feat of Strength!