How to obtain the Ethereal Recollection Feat of Strength in Diablo 3 Season 24, unlocking Ethereal transmogs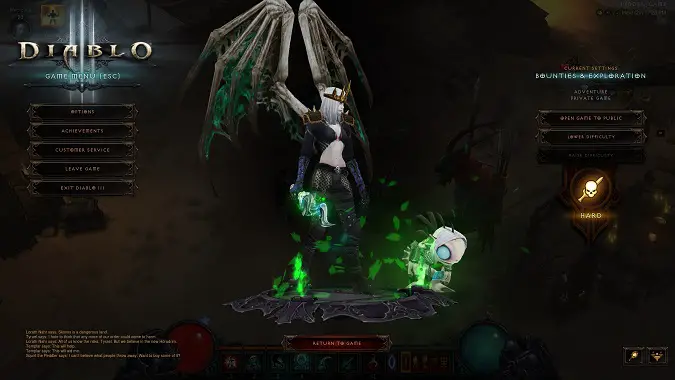 Diablo 3 Season 24 brings us a new class of items for the duration of the season — Ethereals, adapted from the Diablo 2 items. But if you collect all 21, you receive a unique Feat of Strength achievement: "Ethereal Recollection." This seasonal achievement is just darn cool because Feats of Strength are reserved for special events — but also because getting it will unlock the ability to transmog your weapons to Ethereal items beyond the end of the Season.
But how do you manage to earn this achievement? Feats of Strength are supposed to be hard, right?
This one will take you some time, but it's not too difficult. Getting every Ethereal isn't something you can do immediately: the easiest way to collect all 21 Ethereal items is to create a character of each class and start farming. There are farming spots that are more likely to drop Legendary items, including Ethereals, but you're still wrangling with RNG. Even with the very best drop luck, you'll be farming a while, and (probably most frustratingly) Ethereals for other classes can drop on whatever you're playing. Great fun if you're a Demon Hunter with a Crusader's Ethereal Caduceus.
These are the Ethereal weapons you're looking for with each class:
Barbarian: The Grandfather (2H Colossus Blade), Gimmershred (1H Flying Axe), and Doombringer (1H Champion Sword)
Crusader: Astreon's Iron Ward (1H Caduceus), Khalim's Will (1H Flail), and The Redeemer (1H Mighty Scepter)
Demon Hunter: Doomslinger (1H Repeating Crossbow), Windforce (2H Hydra Bow), and Buriza-Do Kyanon (2h Ballista)
Monk: Jade Talon (1H Wrist Sword), Bartuc's Cut-Throat (1H Greater Talons), and Shadow Killer (1H Battle Cestus)
Necromancer: Blackbog's Sharp (1H Cinquedeas), Soul Harvest (1H Scythe), and Blackhand Key (1H Grave Wand)
Witch Doctor: Arioc's Needle (1H Hyperion Spear), Ghostflame (1H Legend Spike), and The Gidbinn (1H Ancient Blade)
Wizard: Wizardspike (1H Bone Knife), Mang Song's Lesson (2H Archon Staff), and The Oculus (1H Swirling Crystal)
The devs have re-purposed a few of the base legendary items (those without a legendary power) for Ethereals, so don't stress if some of these names look familiar.
But how in the heck are you going to get them all? There are a couple of different ways, but I recommend you start this process after you've leveled the main character you're going to play, as you can craft some useful gear for survival and level up a Gem of Ease Rank 25 to make it easier to level new characters of each class. Not only does it increase the amount of experience you gain on these characters,  but a Rank 25 Gem of Ease will let you use a level 70 weapon with a socket at any level, including level 1! While you can get the achievement without the gem, it's a big power boost.
When you're ready to start farming, here's the general process:
First, create a new seasonal character or rebirth (remember, you only get three of these) an existing character for the season.
Switch your game to Adventure Mode and change the difficulty based on your farming choice (below).
Log into your new character, equip whatever gear you can craft for yourself or find at the vendors, plus your level 70 weapon with the Gem of Ease socketed, and add whatever paragon points you have into movement and your primary stat (Strength/Dexterity/Intelligence).
Choose your farming adventure!

Bovine Bardiche: Set your difficulty to Torment 6, put the Bardiche in Kanai's Cube without selecting any recipes, and click Transmute to open a portal to "Not The Cow Level" (aka the realm that does not exist). I recommend starting with a run to the center of the map and speak to the Cow King and burn down the infernal bovine horde waves to trigger 4 treasure chests to spawn. Otherwise, focus on farming the chests and smashing containers around the edge of the zone, as the mob health/damage increases based on your level.
Puzzle Ring: Same start! Set your difficulty to Torment 6, put the Puzzle Ring in Kanai's Cube without selecting any recipes, and click Transmute to open a portal to the Vault (bonus points if the ring is Ancient!). A Torment 6 Ancient Vault will have goblins everywhere on the run to kill Greed. Try to drag out your fight with Greed, as the goblins that spawn during her encounter will also drop loot! The chest from killing Greed herself will drop at least one legendary at the bare minimum. (H/t to Raxxanterax for this strategy!)
Nephalem Rifts: If you are totally uncomfortable running T6, pick the highest difficulty you think you can manage and run Nephalem Rifts. Rifts have a higher bonus to the Legendary drop chance by default. Like the Bovine Bardiche, remember to open chests and smash destructible items like jars and barrels as Ethereals can drop from either!
If you truly don't dig on Adventure Mode, Act Bosses automatically drop a legendary item in Story Mode. Fair warning, this is by far the slowest method when it comes to farming Ethereals, but slow and steady will unlock the achievement eventually.
Diablo 3 Season 24 started Friday, July 23, 2021, at 5:00 pm Pacific. See you in Sanctuary!
Updated 7/24/2021