Streaming live today! Enjoy the pulse pounding, senses shattering return of Tavern Watch, now in extra-awesome role playing game podcast form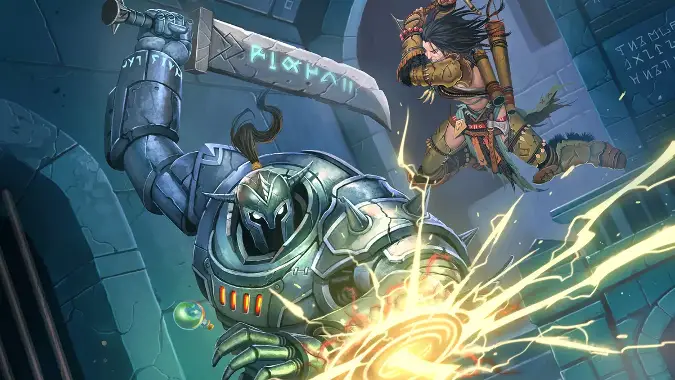 You!
Do you like role playing games like Dungeons and Dragons, Call of Cthulhu, Pathfinder, or any number of other such awesome games that let you play pretend around a table (or virtual table) with friends? Do you enjoy listening to people discuss the latest news, talk about the games they're playing, and in general take every possible opportunity to tell the story of the time they burned down an entire forest just to sabotage the DM's adventure in the Forest of Undeath, where even the trees ooze pitch?
Because frankly it's hard to stop us.
We here at Blizzard Watch have really enjoyed running various RPGs together and letting you all listen to us do it. Joe Perez has run an excellent game for us for the past year or so, and before that, some guy I don't remember very well ran some stuff, I guess. We've done D&D, Shadowrun, a Deadlands Noir game, and even a homebrew Mass Effect RPG based on the Powered by the Apocalypse system. And now, as part of our drive to get more TTRPG content onto the site, we're going to start hosting a once a month podcast focusing on all things tabletop RPG, starring fantastic GM's like Joe, Liz Harper, and again some other guy I'm not really familiar with. Matt something? [Ed's note: It's Matt. Matt Rossi will be podcasting with us.] Whatever, with Liz and Joe there I'm sure whoever the third guy is will be fine.
If you enjoy the Blizzard Watch Podcast's pre-show where Joe and I totally nerd out over various issues in the TTRPG sphere, and you'd like an entire podcast of that with extra added Liz Harper, then by all means please catch our first podcast of Tavern Watch this Saturday, July 31 at 2:30 PM Central on our Twitch channel. If for some reason you can't be there live — maybe you have a D&D game that day — we will of course be recording it and will have it up in the usual podcast places as soon as is feasible.
So join Liz Harper, Joe Perez, and a mysterious hulking presence that looms in the shadows, a nightmare of hair and cantankery, as we dive into the RPG scene. What games are the easiest to pick up and play? What new books are coming for our favorite systems? Why are there so many TSR's anyway? All of this and more on the first installment of Tavern Watch, because we just really like the idea of a podcast that lets me talk about my original Half-Elf Ranger from 1982. Well, at least I like it.
And if you want us to talk about something specific, you can send us questions at [email protected] Just let us know it's for Tavern Watch.
We'll see you for the first episode of Tavern Watch this weekend, July 31 at 2:30 PM Central on our Twitch channel.