Stray is an upcoming indie game where you play as a cat. That's it, that's the post.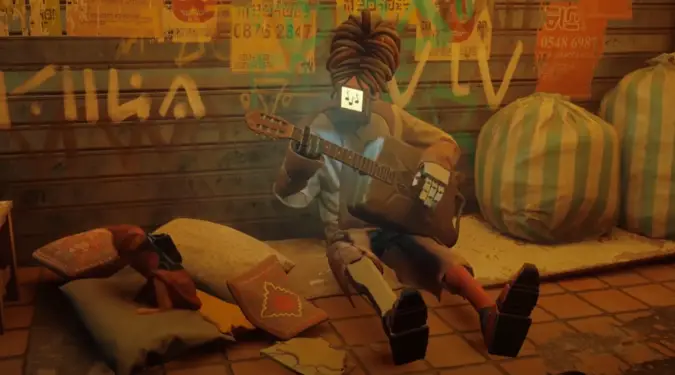 I made a noise in the back of my throat like I'd just been shot when I read the following sentences:
At its core, Stray is an adventure game. It tells the story of a cat who accidentally falls into a weird, mysterious city and his journey to return to his family.
Look, I like cats. I have three cats. They're all different and each of them is sweet and loving in their own ways, and man, the idea of a game where you play a cat trying to get back to its family — which is something cats absolutely do, they'll travel as far as they need to when they want to get home — that's just amazing to me. This is a game that I never would have believed could exist, and now that I know it does, I want to play it right this second, not sometime in 2022. But wait I must, and will, impatiently, because BlueTwelve Studios and Annapurna Interactive are bringing us this noir urban fantasy cat simulator next year.
Since we can't play it yet, we can at least watch this gameplay trailer.
What's really interesting to me is how Stray reminds me of several other games, while also not really reminding me of anything I've ever seen — the exploration and puzzle gameplay reminds me of games like The Last Guardian while the setting has aspects of various sci-fi dystopias I've seen. It almost feels like a classic roguelike, with stealth and speed being key, with enemies you need to find special methods to defeat instead of just daintily biting their faces off. The relationship between B12 the drone and the cat you're playing is apparently also big part of both the story and gameplay. The cat has a robot drone on its back like in Star Wars Jedi Fallen Order, and the gameplay trailer also kind of makes it feel survivor horror-esque — when Anna Bell reminded me that for all I know the cat could get hurt I immediately got afraid for what is obviously the best protagonist in video game history except Kassandra.
Honestly, I really have no idea what this game is going to be like. Stray is kind of an odd duck, but it's one I'm super excited to get to play. Forget controlling an unmannerly goose, when you can instead inhabit a cat just trying to get home from a weird mysterious robot-and-Zurk-infested city.
I want this game, and I want so bad to get the kitty home. Please don't make me watch the cat get hurt, Game Producer Swann at BlueTwelve Studio.