How loyal are you to your WoW mounts?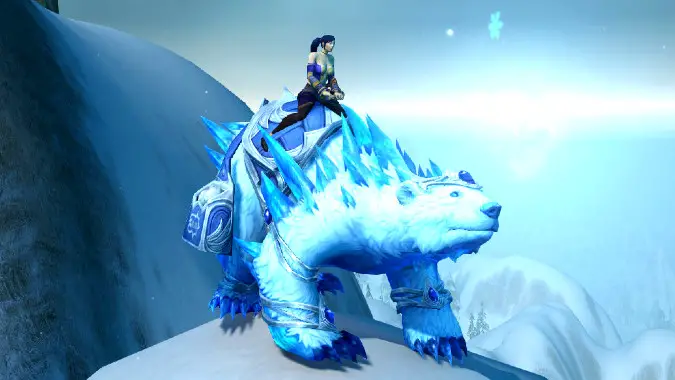 Unlocking new mounts is one of the many end-game paths World of Warcraft players often find themselves walking (or flying). There's obviously a prestige factor to getting a hard-to-acquire mount, and then feeling that little bit of swagger when you drop into a hub area with the coolest ride around. But when your stable grows to an entire collection of flashy status symbols, how do you pick your steed?
Usually when I'm playing WoW, I match my mount to my characters as much as possible. Thus, my Pandaren main will always be jetting around on her dragon. Doesn't matter how many special mounts I might unlock, but for me, I like having an aesthetic that's consistent with whatever character I'm playing.
On my alternate characters, I'm less committed to maintaining a unified look. I know it's the least-exciting thing to use for travel, but I love my Blood Elf's Hawkstrider. They make me think of Chocobos, and Chocobos make me happy. So yes, even at the level cap, I might be seen riding around on a purple hawkstrider, singing the Chocobo theme to myself. When I'm feeling less basic, I might roll out a charity mount or one of my BlizzCon unlocks.
But that doesn't always jive well with all the super-fancy mounts you can secure in the game. Especially if you fall within any definition of "hardcore," you have a bunch of mounts that you worked really flipping hard to get and you want to show them off. So at what point do you decide to switch over to some shiny new hotness? When do you stick with the lore-appropriate selection and when do you relish the ridiculous incongruities? How much time do you spend on mount upkeep across your roster of characters?