What weapons do bosses refuse to drop even though they've got them right in their hands?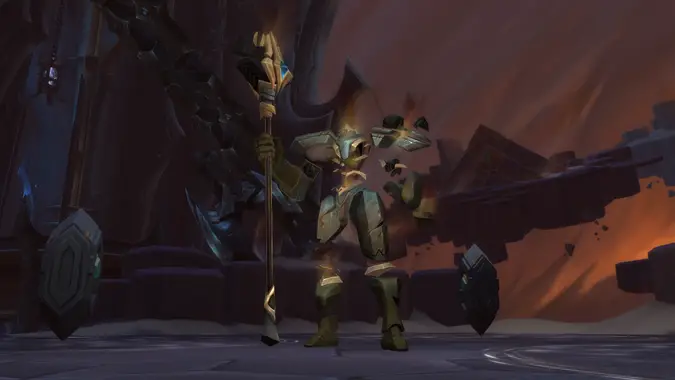 Weapons are the most sought-after pieces of raid loot. Getting a perfectly crafted helm or chest piece for your class is nice, but nothing really compares to that feeling when you get that weapon you've been hunting for. I instantly feel more powerful when I get my hands on the latest and greatest weapon. It's not even a matter of the stats so much as how it feels to wield a weapon that was so recently held by one of the big bad bosses that it took a whole raid group to defeat. So that's why it can be so frustrating when you get to a boss that's holding an amazing weapon, and then you don't even get to use it!
Most recently this happened with the Guardian of the First Ones in the Sanctum of Domination. This giant construct of an ancient society has seen better days, and his staff is no exception. It's not exactly one solid piece anymore, but something is holding it together. Maybe it's so powerful that it refuses to crumble.
When I realized that the boss dropped an agility weapon I was pretty excited. They're often fairly unique polearms and staves, and that's especially true here. The boss literally has it right in its hands! I was all set to remake a transmog to match its colors. Until I realized that the weapon it drops is actually one of the spikey implements of pain wielded by the Jailers forces. I was a bit disappointed. I know that I spend most of my time as a Guardian Druid looking like a bear, but I still like knowing that underneath I look fabulous!
I know that there are other bosses out there who have weapons like that we never get to steal. Arthas is the obvious one, even though Tirion shatters Frostmourne before the end. We could've glued it back together!
How about you, do you also hate it when you can't get the boss's weapons? Which boss had the shiniest weapon that you most wanted but can't get?