Warcraft and Hearthstone are getting some fancy new cross-promotions, with a new mount for WoW players and lots of goodies for Hearthstone players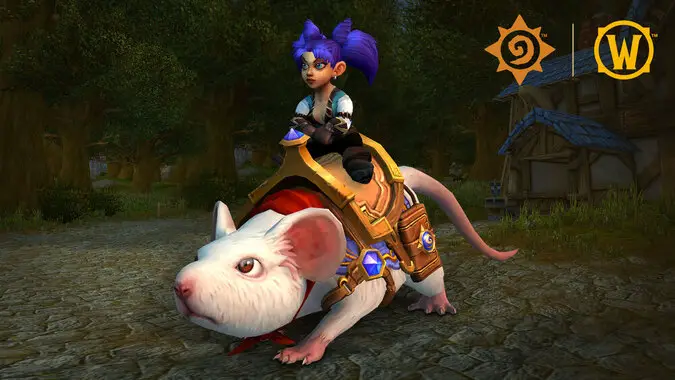 It's been a long time since the last Warcraft and Hearthstone crossover. The Lady Liadrin hero portrait came out five and a half years ago! After such a long wait, the next cross-promotion is definitely a doozy. Players who decide to play in the new Mercenaries mode in Hearthstone — which will be launching on October 12 — will get to ride Sarge, the Tavernkeeper's pet mouse around Warcraft. While Warcraft players who have the 6-month subscription will get a whole slew of Hearthstone rewards.
First up let's look at Sarge — that is one heckin cute mouse mount. Players who want to earn it for their characters in Warcraft will have to get through the introduction of the new Mercenaries mode in Hearthstone, and then start up another bounty past that. It doesn't appear to require any PVP engagement in order to get your mount, unlike having to win three games in order to get your Hearthsteed mount the first time there was a cross-promotion.
Purchase a 6-month WoW Subscription between now and October 19, or have a current subscription set to renew at a later date, and you will receive the Tavern Pass and Battlegrounds Perks for this and the next expansion, 15 packs from United in Stormwind, 15 packs from Hearthstone's next expansion, and 30 total Mercenaries Packs across your subscription period! 
Additional details and restrictions apply.
For Hearthstone players who are also playing Warcraft with a six-month subscription — you'll get 60 card packs spread across the new Mercenary mode and the regular expansions. This reminds me of the Diablo 3 launch, where you could subscribe to Warcraft for a year and get Diablo 3 for no cost, as well as a few other rewards like Tyrael's Charger. If you play both Warcraft and Hearthstone this is a genuinely amazing deal. Just looking at the Tavern and Battlegrounds passes that you're getting for the two Hearthstone expansions you're saving $60.
We understand a 6-month subscription may not sound appealing right now, given the current Blizzard lawsuit, but if you're locked in right now it's nice to be able to explore some fringe benefits outside of Warcraft.