It's time to show off your most fancily dressed Transmog sets!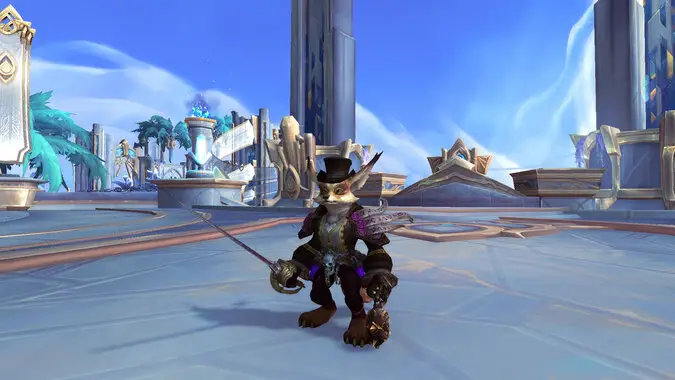 So with the Trial of Style this week making all of our transmogs free. I took the opportunity to make a new set for my Mage. The upcoming change to Island Expeditions being soloable in patch 9.1.5 reminded me that I worked my butt off in Battle for Azeroth to get myself the Duskhaven Top Hat. Up until now, I'd basically only collected it, and never actually used it for anything. So now I've fixed that and made my Vulpera a very fancy set to look my best while setting things on fire. As we all know, looking your very best is one of the most important parts of actually playing the game.
Of course, it's also the start of the Fall season so I made it a little spooky too. The Gibbering Madness offhand, and Venthyr rapier complement the ominous Tidesage shoulders that scream (maybe literally in the case of my offhand) something sinister lurking under the surface. I'm pretty proud of this set as my Mage looks ready to go to the opera, or take place in an unspeakable ritual to raise an unfathomable being from beneath the waves to devour the planet — it could go either way.
I hope that the fancy establishments that I want to take my Vulpera to actually let me in not wearing shoes. Hopefully, the overall fabulousness of the rest of my outfit makes them overlook that little detail. It's not my fault that Vulpera don't wear shoes!
How about you, do you have a fancy set for your characters? I know I've seen tons of banker alts who look dressed to the nines all the time, but what about your mains? Do you ever put on your Sunday best for raid knowing that you'll triumph just because you're so stylish. Show off your best gowns and suits below!