Who should get a major starring role in the next expansion?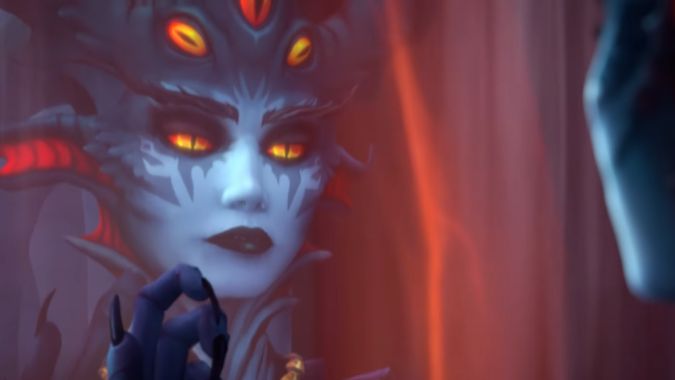 With every new expansion, our cast of supporting characters changes a bit. Sometimes it's because we've defeated them and aren't really expecting to see them again, like Arthas or Illidan. Although that doesn't always mean they're gone forever. Ask me again in Shadowlands patch 9.2 if Arthas has finally been found. While in other cases the characters fade into the background gracefully. I know we're still a ways away from getting another expansion, but I'm still thinking about who should show up in a big way in our next major outing.
Top of my list: Queen Azshara.
Last we saw her, we were letting her escape from Ny'alotha, the Waking City while we were pushing further in to end N'zoth's fiendish plans for Azeroth. That decision was a little silly of our characters to make at the time, but it's not like we weren't busy. Old Gods aren't going to defeat themselves after all. But that means that Queen Azshara is still out there and remains one of the most powerful magic users on Azeroth. What has she been doing with her reprieve while we've been in the Shadowlands? I'm dying to find out!
Of course, if we start dealing with an uber-powerful magic user like Queen Azshara, we'll need some heavy-hitting magic of our own. This brings me to my next two characters who should get the spotlight: Baine and Khadgar. It's been two expansions since we've seen Khadgar, after all — what has that funny Mage been up to in all that time? I don't begrudge him his vacation, we had just spent two expansions with him giving us quests and asking for oddly specific amounts of things, but it'd be nice to see him again. At the very least give him a quest chain in one of the zones where we get to see who his secret love interest was from Legion. As for Baine, it's time for him to really stand up and be a presence in things — and he definitely is a heavy hitter. I feel like we keep having to rescue him from places and I'd like to see what he and the rest of the Tauren can get up to in regards to a renewed Naga threat.
Who would you like to see take center stage? Is there a villain who we've let slink into the shadows that you'd like to see back? What about a quest-giver who we haven't seen in a while, just what are Hamuul Runetotem and the Earthen Ring doing right now other than helping out with the giant sword stuck in the planet?