D&D Celebration reveals more details about upcoming products, including 50th Anniversary edition of D&D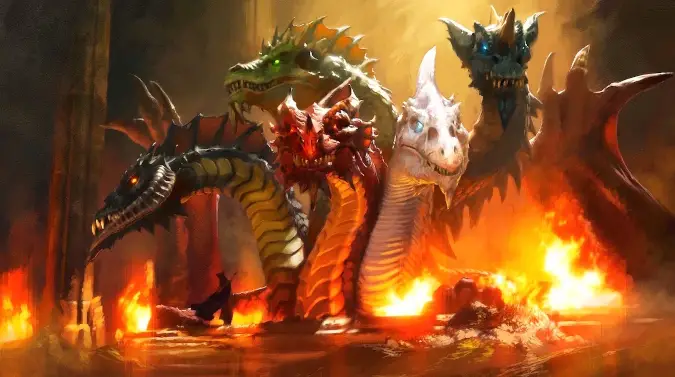 During this weekend's D&D Celebration, the festivities ended with a Future of D&D panel — a panel hosted by Elle Osili-Wood, who spoke to Chris Perkins, Liz Schuh, Ray Winninger, and Jeremy Crawford about what you'd expect in a Future of D&D panel: the distant past of the Precambrian period and how it set the stage for the development of our modern ecosystem.
No, no, that's just me being me. What they actually talked about was almost as exciting, though — they announced that in 2024, just three years from now, we'll be looking at a whole new edition of Dungeons and Dragons, just in time for the 50th anniversary of the game. The 50th Anniversary set will consist of three new Core Rulebooks, intended for complete compatibility with current 5e products. Is it essentially the same as the way 3rd edition got a 3.5 version back in 2003, just ahead of the 30th anniversary, or will it be a completely new edition of the game, a D&D 6e?  We don't know that yet, or what exactly they mean by saying the new core rulebooks will be completely compatible with current D&D.
By itself that would be pretty huge, but while Wizards of the Coast is working on the new core rulebooks, there are other products coming out before then. In 2022, for example, we'll get to see Mordenkainen's Monsters of the Multiverse, a new monster book for 5e. It'll first be released as part of the Rules Expansion Gift Set, launching on January 25, 2022, before coming out separately later in 2022.
👀 Xanathar's Guide to Everything
🧙‍♀️ Tasha's Cauldron of Everything
🐲 Monsters of the Multiverse

Coming together January 25, 2022!

Preorder now: https://t.co/ui8O6A5uKQ pic.twitter.com/1wzN2eZEwV

— Dungeons & Dragons (@Wizards_DnD) September 26, 2021
I'm interested in the new Mordenkainen book — sounds like it aims to be a compilation of pretty much every monster released in separate books so far, including in campaign settings and the like, with over 250 new creatures. That's pretty substantial. It features stuff from the old Tome of Foes, the Volo's Guide to Monsters, and other books.
We also heard a little more about the upcoming classic D&D settings — there will be two in 2022 with a third getting a "cameo," and another one in 2023. As of yet, still no word on how these will be coming out — they repeated that they'll be released in formats Wizards has never used before. I have no idea what that means. Perhaps an entirely online campaign setting, merged with a custom made Virtual Tabletop? No idea, but definitely interested in what's going on with that, and what these settings will be. In addition to the two coming on in 2022 and the third in 2023, there are also two new settings being worked on, but they're in early stages yet, so they may or may not come out.
It looks like the next two years are going to be interesting as we ramp up for 2024's 50th Anniversary Edition of Dungeons and Dragons.