The Queue: Make it so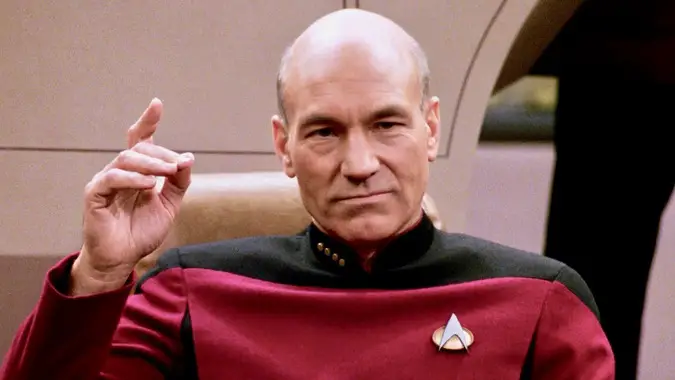 Hey, let's take a trek together… a Star Trek.
Set your phasers to stun, it's — The Queue.
---
NIGHT, THE WORLD, IT'S LIZ'S
Who's the best Star Trek character and why is it Garak? 
Garak is certainly one of the best Star Trek characters, but I don't know if he's the best… don't fire me!
It's just gotta be Q for me. He's got that trickster god energy that really is some of my kryptonite. I love when one of those show up and mess with the natural order of things.
---
WITH NOBODY ELSE OUT HERE IT'S TIME RETPALLYJIL, RUN WILD
Do you like the remastered version of the episodes of TOS or the originals? I honestly prefer the earnest cheesiness of the original sets and effects. I think it loses something in translation.
There is a certain something special about the limitations of the time still working together to create something so enduring. Working within limitations has lead to some truly great creative choices from creators over the years.
This may be apocryphal, but I remember seeing a story once about some film students talking to Kurosawa about why he chose to shoot one of the castles in a certain way in one of his movies. It had become an iconic shot, and they wanted to know his thought process in choosing it. He replied that if he had shot it from any other angle you'd have seen the freeway — or something similar. I don't remember where I saw that, so don't take it as 100% factual and attributed to him.
However, I don't begrudge anyone liking the Star Trek remasters, at least they didn't throw a bunch of lizards into the background or expand a musical interlude for some reason.
---
TO BURN, IGNITE, JAXDADDY WOULD DO IT FOR SO MUCH LESS
Oh, but Cory, my QftQ is… Does anybody who uses a transporter still have a soul after arriving at their destination. Because, if you think about it, the original versions of themselves are dead the moment the transporter disassembles their molecules.
Star Trek has played a little fast and loose with the concept of souls, or consciousness a few times over the years. We've seen Dr. Crusher romance a ghost, or there was that time that Troi and Data and O'Brien were possessed by ghosts. There's something in those transporters that seems to be able to anchor your animating force to this plane long enough to put back into your new body. Magnets most likely.
However, it could also be like pouring water back and forth between two cups. No matter how carefully you pour, eventually some drips out. This makes me wonder if you took transporters every day over decades, would you see a gradual change in someone's personality beyond any changes related to aging? It certainly lends some weight to McCoy never wanting to take them.
---
WHEN ARTHONOS IS MADE CLEAR, THERE'S NOTHING ELSE
Q4tQ: Borg Cube vs Death Star, which one wins?
One Cube vs the Death Star, the Death Star wins easily. Even one of the giant Cubes made up of the smaller Cubes and I give it to the Death Star.
If there were lots of Cubes flying around and the Death Star blew one up, I don't even know if the Borg shield adaption would be enough, that's a lot of energy being put out by the Death Star — and it's gotta go somewhere.
---
WITHOUT ELAINE DE SHALOTT WE'RE FANTASIZING, DANCING LIKE FLAMES MESMERIZING
What do you think is the funniest Star Trek episode (any series)?
The unintentionally funniest is "Threshold."
The episode that set out to be funny on purpose and just absolutely nails it is "Trials and Tribbile-ations" from Deep Space Nine. It's got it all, Tribbles, Worf, jokes about how far the series has come, Worf. Michael Dorn really was one of the best comic foils across two series.
---
MY GLOWING METEOR CARROT PLAYING SUCH EERIE HARMONIES
What's the best looking Star Trek ship?
The Romulan Warbird, hands down.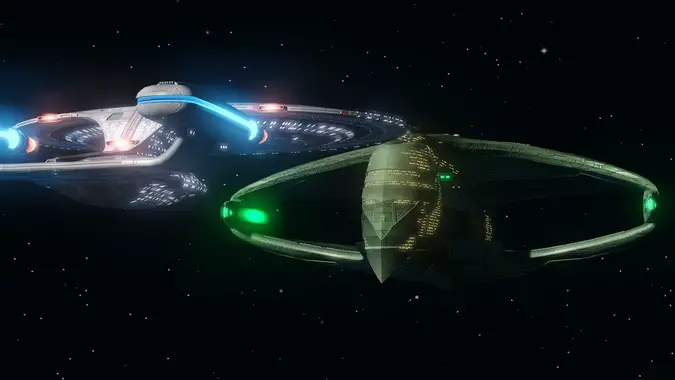 ---
LUOTIANX TO THE SOUND OF THUNDER
How many other kids had a crush on Geordi or was it just me and my 5yo self?
---
WE ARE LIZ BY STRINGS ANIMATED
Since this isn't a Queue about Star Trek, has anybody watched Muppets Haunted Mansion yet?
Oh, this isn't a Queue about Star Trek?! Whoops…
I did! I really liked it!!
I rode the ride a million years ago so there were just enough ride-related bits to make me go "ohhhhh yeah I remember that." Plus, it's the Muppets and I love those guys! The Haunted Mansion special nailed most of the zaniness of them, but it also had a bit of heart and a character learned an important lesson about themselves — so it was pretty much firing on all Muppet cylinders. I was surprised though that they didn't break out Old Tom, Real Old Tom, and Dead Tom. Even with their absence, I hope this is the beginning of a glorious Muppet renaissance and we get more specials from them.
---
MY DARK DIQUIET SINGING SUCH HAUNTING MISTAH JAY'S
Q4tQ: Should Hearthstones have an AoE effect for group members?
I'm sure there are some times where it'd be nice to go somewhere together with your party, and you didn't have a Mage with you. So that would help in those times, and it's unlikely to ever see any shenanigans on the same level as Have Group, Will Travel ended causing. I still remember instantly winning Tol Barad PVP matches with it when you summoned your entire raid group to the final capture point. Was it cheating, yeah definitely, but did I also need to get my loot from inside Baradin Hold — also definitely.
I don't know that I've ever thought about needing Hearthstones to be AOE as an option though. Between the regular one, the garrison Hearthstone, and my Dalaran Hearthstone I'm pretty well set Hearthstone wise. Which doesn't even count all of the myriads of other teleport items I keep on me. Karazhan and Dazar'alor rings, Orgrimmar Cloak, or my Garrison Shipyard teleport if for some strange reason my main Garrison Hearthstone is down.
Today's Anna Earworm™: My Dark Disquiet
Happy Thanksgiving everyone in Canada and happy monday for the rest of you!
There are more Star Trek questions that I wanted to answer but ran out of space, so keep your eyes peeled for Star Trek Queue 2: The Search for More Money.