The Queue: I'm good at Hearthstone now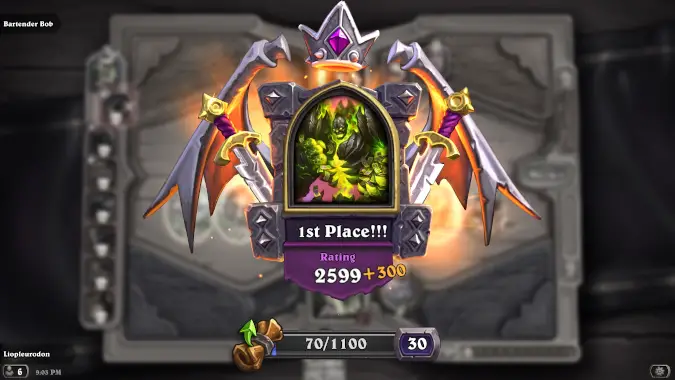 With the Mercenaries release, and Red's incredibly apt description of Hearthstone being "ten games in a trenchcoat," I started playing again, and it would appear that I'm getting pretty good at it, actually. I found the initial release mode kind of frustrating, because I found in-game cash generation too slow, and was frustrated by how I'd be super close to interesting synergies, but it took forever to get a few specific cards to really execute them. Playing modes where that's never an issue — Battlegrounds, specifically — has really piqued my interest. Unfortunately though, I'm at the point where I now know just enough to start getting frustrated again. That's… good, right?
This is The Queue, where you ask us questions and we'll answer right after this round is over we promise.
---
KALCHEUS
Brandon Sanderson is doing NaNoWriMo.
I'm assuming he's going to complete 30 novels this month.
Wait, it's November? As in NaNoWriMo November?
frick.
---
ROXXII
Q4TQ: What is the first thing you're doing post-patch?
I plan to swap back to Night Fae to unlock my last 2 Renown there then start farming up the Kyrian Covenant sanctum.
I'm going back and running Opulence until I get the transmog that's rightfully mine .
Given the drop rates it's a little weird that I never managed to grab a gorgeous bejeweled crown off the stack, but I never did. I ran it a bunch of times on LFR, but never higher difficulties. But now, it's time.
Those trolls better buckle up is all I'm saying.
---
FALRINN
QftQ: What is your favorite bad expansion idea?
As in an expansion concept you find interesting or fun, but fully acknowledge that as an actual expansion it wouldn't actually work. And not in the sense that you don't think it would be executed properly, but in the sense that no good execution strategy exists.
This is going to sound weird, but I want a Responsibility Expansion.
We keep going to these new places and lands — or occasionally revisiting older places — and every time we go we leave things behind. Whether it's allies, or an ominous smallish bad, or even a newly downed boss meaning a land primed for a power struggle when we go, we keep making messes and then flit off to the next one.
I want an expansion where we're scrubbing the cultist sacrifices from the sands of Uldum, or an expansion where we go have tea with Yrel sometimes. I want to pay the Defias. I want to make infrastructure improvements in The Barrens. I want to see exactly what the Scourge is up to in Icecrown. What happened to the pieces of the Old Gods we've slain? How did King Varian think humans would ever have a strong currency when their main — and perhaps only — exports are spies (which, incidentally, don't seem to be very good) and pumpkins?
It would make for a very boring expansion for some (see: the reaction to the third act of Fable 3) but I love courtly intrigue plots, and this is my wild-eyed worldbuilding situation. Moreover, speaking of wild moonshots, this would be the perfect time to create in-depth player housing… why should Theotar be the only one to throw absolute banger parties?
---
KALCHEUS
Hearthstone BG question: is there a way to say "done" when in the recruit phase? Or do I always have to wait for the time to hit 0s?
Nope.
Remember that Battlegrounds is a PVP game. Much of the time when you're cooling your heels in the Tavern with Bob, your opponents are flailing around in the background. This is especially true with things like an Elemental deck featuring Molten Rock, or Pirates, where toward the end you almost get into an APM race while, if you're playing Beasts, you may be twiddling your thumbs.
Even on your first turn, you're waiting out that timer because your first pick strategy may change based on the other Heroes in play. If one of your opponents pulls Millicent Manastorm, you may want to rethink grabbing a Mech on your first turn, for instance. Not that your first pick has a huge power swing for the rest of the game per se, but I know I've lost out by one or two HP where I really wish I'd made a different choice in those first few rounds.