The Queue: Tis the season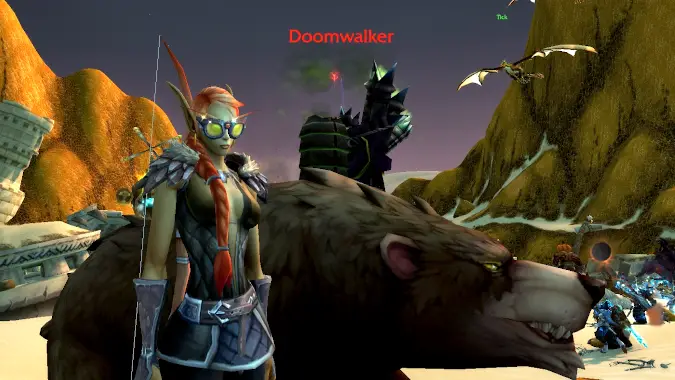 As Anne Shirley said at the end of Anne of Green Gables, all's right with the world.
This is The Queue, where you ask us questions and we might get off our transmog mammoth long enough to answer, because these SUNGLASSES, right?
---
FUZZYBUNNY
q4Tq:
what do I need to do to get the anniversary mount?
All you need to do is go to the Caverns of Time and kill Doomwalker. Of course, this may be easier said than done depending on the player density of your particular server or shard — you'll definitely have a tough time if you try to go it alone. Then, repeat fruitlessly until the anniversary event is over.
It's a simple process but not necessarily guaranteed to pay off. The drop rate seems to be fairly low for such a limited-time event. It always strikes me as a little odd when they make very limited-time content like this as a part of a celebration, and yet they gate it off to either the lucky or the people with a billion alts and tons of time to kill, but hey.
---
KALCHEUS
Q4tQ How disappointed will you be if the new Hearthstone Alterac Valley expansion doesn't give us the new minion type of Dwarf?
That would be incredibly fun in Battlegrounds — the only one of the many verticals within Hearthstone I care about — so I'm here for it.
However, this would also mean that we'd get an Orc minion type, which in the long term could lead to some really quirky stuff as the number of minion types balloon further and further based on more specific types and subtypes. Oddly, I think it would be a little more applicable to the game types with very limited minion scope, like Mercenaries, as opposed to the whole game.
But then, I have a feeling this question is a little leading, and I hope you get what you're looking for.
---
ROXXII
Apparently Blizzard gave their employees next week off, I wonder what that means for our chances at a PTR build.
Selfishly, I'm hoping it's next to nil. Beyond the cozy motivation of seeing family for the holidays, I've grown quite accustomed to working on this kind of thing while the kids are in school,. Having a PTR drop while the kids are around is like when someone's trying to count out cash and that one jerk is shouting random numbers, only my kids are yelling about Roblox.
I'll add that this is one aspect of listening to the developers I'm completely down with. For a long time Blizzard's signature was the whole notion of "Soon TM" meaning that they took time to really dig in and polish their product. While I've been frustrated by their development times in the past — like how I bought a brand new Pixel 4 in 2019 to play Diablo Immortal and I may need to upgrade again by the time it's actually out — honoring their staff as actual people with families and not crunching content machines is an initiative I'm more than happy to support.
---
JALAMENOS
Question:
Say you're at a parking lot where about a third of the spots have a charger for electric cars.
All spots are occupied except one with a charger, is it ok to park there with a diesel car?
No parking spots are assigned.
As someone who owns both an electric car and a gas vehicle, I'd park there, but if I was going to be there a while I'd try to move my car when I got the chance. Though I have been in that "oh no I'm almost out of battery, oh NO" it's pretty much always come about as a result of my own poor planning. That is one thing I've noticed about using the electric car — I have to be a lot more deliberate when I run errands. Though, that said, frequently "and then I can stop at this lot and plug in for an hour…" is a part of that planning process.
In practice I might see whether there was a spot open further away or in a less-hopping adjacent lot, but that has less to do with the vehicles and more with my own specific quirks. Especially with kids old enough to open doors on their own — but not always aware enough to not door ding other cars — it's habit to try to park as much on my lonesome as possible.