The Queue: Kindred spirits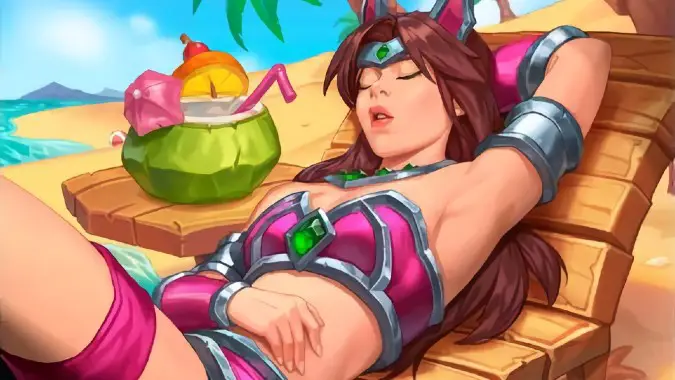 You ever see promo art of a character and it resonates with you really deeply? That's me with AF Kay.
This is The Queue, where you ask us questions and we'll get around to answering them by turn three, probably. If you bring us a drink in a coconut, that might speed things along.
---
FUZZYBUNNY
Did everyone see that we are having a Blizzard Watch pledge week according to the front page?
We are indeed! The post has more information, but basically we fell below our baseline operations goal, so we're trying to bump it back up so we can keep doing what we (and hopefully, you) love.
Personally, my favorite perk is the Discord channels. You can hang out in our public channels for free, but the behind-the-scenes stuff is where you can really experience just how much of my day-to-day communication is memes and reactions using our custom emoji of Ben Affleck being really tired.
---
ROXXII
Q4TQ: What kind of conspiracy theories would you expect to find on Azeroth?
I'm pretty sure Flat Azeroth is one that's been revolving (pun intended) around the WoW community IRL for ages, so it would only make sense if that was in-game, too.
Beyond that, I kinda feel like almost any in-game conspiracy theory maybe… isn't? Like how there's a secret subterranean bug city under Northrend, for instance, or how there are totally still random black dragons, or how the Infinite Dragonflight is clearly the Bronze Dragonflight from one version of the future. Vanessa Van Cleef is secretly still alive, because hallucinogenic poison! Moira actually went willingly with Thaurissan! Benedictus is secretly a cultist! We've had so many heel-turns and betrayals and revelations that this one character we thought was evil was right all along that conspiracy theories kinda lose their bite.
That said… Tiffin Wrynn is 100% still alive and I'll fight anyone about it.
---
KALCHEUS
Q4tQ (inspired by the discussion below): In WoW, what are you currently farming each day/week? Right now I'm working on Mirror Network outfits for Cloth and Mail.
Right now, I'm mostly just refreshing my mission tables via the app, because logging into WoW specifically makes me feel sad and/or gross. I've been going through the motions and trying to stay current on my Mercenaries quests things which aren't called quests because that's a different specific term in Hearthstone for other things.
Speaking of, I feel like I'm kind of in a weird place with games in general right now, because I don't have the time to run through all the daily pickups on everything I want to do and play. Even mobile games, where the daily quests are usually "just click this box for a free geegaw," are starting to feel too overwhelming. Heck, half of Blizzard's franchises have daily and weekly quests to contend with now.
This response feels like it's straddling the line between old man shaking fist at cloud and clinically depressed.
---
RED
Q4TQ: what are some moments in gaming (or in movies/books/shows/whatever) that hit you hard when you first saw then, but hit you much harder when you saw them a second time (because on the 2nd time you knew the full context)?
If I ever got over the emotional turmoil I experienced the first time to play it a second time, What Remains of Edith Finch. Which part? Yes.
Trying to talk around the plot without spoiling it, each character is associated with a symbol, and you may not understand either what the symbol is or why until later in the game. It's a story told both very visually and via the voice acted lines in addition to the actual gameplay. It's masterful and raises a lot of questions that beg a replay to truly begin to unpack — is Edie an unreliable narrator? — but it's so emotionally devastating I haven't been able to steel myself to do it.
It's a beautiful work in so many ways, but pirate ghosts ahoy did I need tissues.