How was your World of Warcraft Anniversary experience this year, and what would you like to see next year?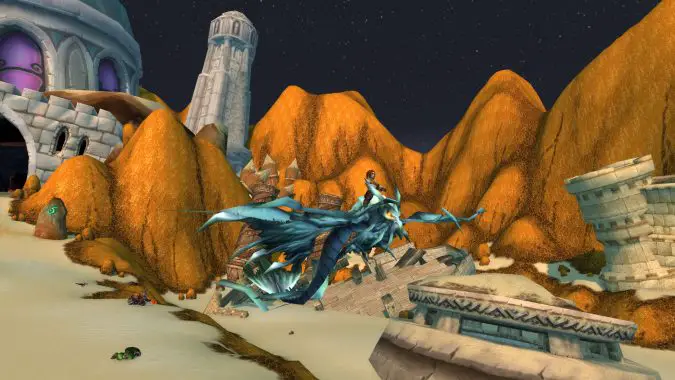 The 17th Anniversary of World of Warcraft has officially ended, and frankly, none too soon. While I enjoyed the plethora of Timewarped Badges I was able to acquire — and of course who doesn't love a new mount and toy? — the ride up and down the Caverns of Time is way too long, the trivia questions can be too repetitive (total count for the "Mur'ghouls" question this year is 42), and the reduced XP rewards for Korrak's Revenge make it not as worthwhile to run as in anniversaries past. That said it's still an event worth participating in (even when the reward isn't something as cool as the Obsidian Worldbreaker) and I look forward to giving all my characters a chance to enjoy Warcraft's past.
In reality I shouldn't complain — besides the aforementioned mount and toy, I was able to acquire every piece of transmog (many unique) that Doomwalker dropped. 10 toons that started off at level 50 are now 52 or 53 after minimal effort, and I was even able to pick up a weapon or two for level 60 toons that weren't having luck in Korthia. I wish Timewarped Badges were accountwide, but adding 500+ to every character still will prove useful in the future — and the arrival of Legion Timewalking this week gives the opportunity for more.
How was your anniversary experience? Did you kill Doomwalker daily, or just once for the mount and toy (once they were hotfixed to be guaranteed)? Was "Mur'ghouls" your most popular trivia option, or was it "Acherus" or "Aliden"? And have you stopped killing The Originals and Korrak the Bloodrager like I have?
More importantly, though, what do you want to see when the event runs around next year? Should Doomwalker still be active, or replaced with a different challenge? Should Korrak's Revenge be a fast way to level characters again? And should players who missed the 15th Anniversary have a chance to get the Obsidian Worldbreaker (seriously, it's a fantastic mount)? Let us know in the comments below!