Hearthstone Battlegrounds will get monthly official competitive events in 2022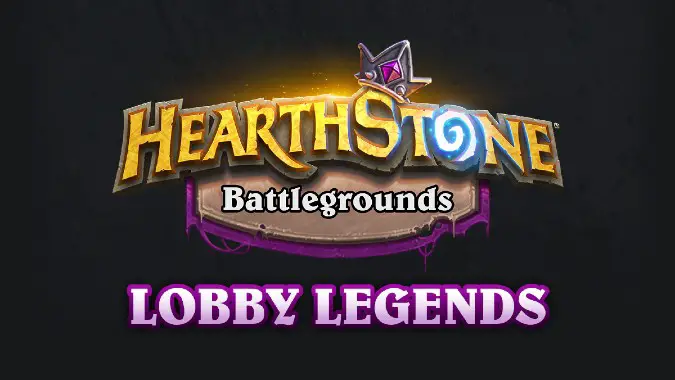 Hearthstone esports is undergoing some major changes in 2022, and among them is one that definitely caught us by surprise: in addition to their typical Constructed decks events slate, Battlegrounds mode will get its own set of official competitive events as well.
Lobby Legends will be a series of one-off monthly events, each rewarding the winners with a slice from the total prize pool of $500,000. These events will be global, rather than separated into distinct regions like we're used to seeing from the Constructed events. And what's more, the players who will participate in the events are simply the top ladder players from each of the four regions — Americas, Asia-Pacific, Europe, and China. This is a far cry from the standings-based invites they use for the often-criticized Grandmasters system, which will be singing its swan song next year as well.
On day 1 of Lobby Legends, players will compete in group play, where they receive points after each match based on their final standing. The top players from each group will advance to the playoffs on the second day, challenging each other for the final prize. Other than that, we don't have more details at this time, but Blizzard has already promised there is more to come on the following months, regarding specific event dates and qualifying schedules.
The fact that player invites come from simple ladder play is refreshing — and it definitely sounds like the Hearthstone team is trying to make things different here. They have stated their goal of, "exploring what works best for a new Battlegrounds program," and followed by stating that they're, "excited to find new ways to have fun with their broadcasts over the next year." This all hints that they're very much aware of two things: that player interest in watching competitive Hearthstone declined with the move to the competitions being streamed exclusively on YouTube rather than Twitch, and that the competitors themselves who participated in systems such as Grandmasters have had a lot of criticism over how arduous the task is to maintain a good enough standing and keep their position in it.
Furthermore, it's a much more transparent and inviting system. Since we know that all it takes to be invited to compete in Lobby Legends is ranking on the Battlegrounds ladder, any player in the world — even you or me! — could give it a shot. Commit yourself fully to playing Battlegrounds, attempt to crush the competition on ladder play, and perhaps success, internet fame (or infamy), and a chunk of the prize money could be yours. All it takes is skill, time, and dedication. Realistically speaking, the chances of making it there are slim, sure, but hey — we can always dream!