WoW
Dec 21, 2021 10:00 am CT
A new toy, the Winter Veil Chorus Book, makes you sing like your sweater used to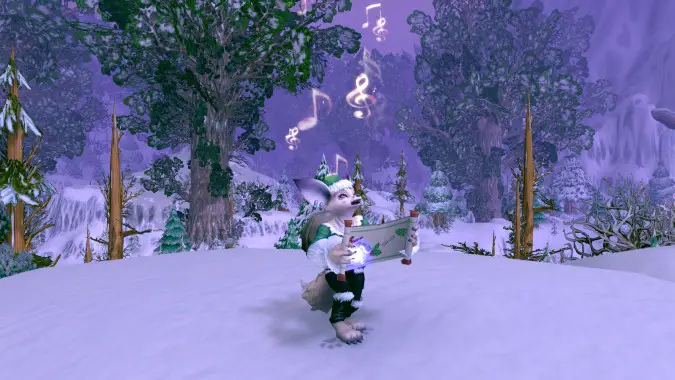 The Feast of Winter Veil event is already live on World of Warcraft, and as is tradition, we're waiting to open our presents under the tree in Ironforge or Orgrimmar. But there is no need to wait for at least one of those presents. We can already go to our friendly Smokywood Pastures vendors — they can be found standing next to the tree on either city — and get the Winter Veil Chorus Book, a toy which makes your character sing a festive seasonal song.
I know what you're thinking: "I can already do that!" That's right: that's the same effect as the Gaudy Winter Veil Sweater item used to have. I say "used to" because, since patch 9.1.5, there's been a change to how WoW deals with cosmetic items. Most pieces of equipment with the "Cosmetic" tag have been converted into a new type of item that is consumed when you use it, adding one or more new appearances straight into your collection.
This was a good change, as it made it possible for you to collect entire cosmetic sets all at once without taking up unnecessary inventory space, or requiring you to dispose of the leftovers. But it did come with a caveat: since cosmetic items go poof when used, what happens to those specific cosmetic items that had a "on use" function — like the Winter Veil sweater?
Well, the truth is that there is no easy or obvious solution for that conundrum, so the developers had to compromise by adjusting as needed. In this case, the ad hoc solution was to create this brand-new collectible toy, which gives you just the "singing" function from the old sweater, while the actual appearance of the sweater can still be found within your transmog collection.
That implies a very minor change on the functionality: your character's singing is now completely unrelated to the ugly gaudy clothing, so if they choose to, they can even burst into merry songs about snow and joy while wearing their epic set of tier armor, filled with skulls and spikes and the blood of their enemies, or something sober and somber like that. But hey, that's a very minor change — nothing stops you from just transmogging into the sweater anyway, and then using the toy, as Metzen the Reindeer intended. The benefits far outweigh the negatives here!
On a final note, don't panic about the idea that getting a "repeat" toy this year is Greatfather Winter's way of showing you that you've been naughty and he's very disappointed: there will be other Winter Veil toys as well — new ones — waiting for you under the tree! Just a few more days and you can open them all. Happy Feast of Winter Veil!