The Queue: That holiday? feeling?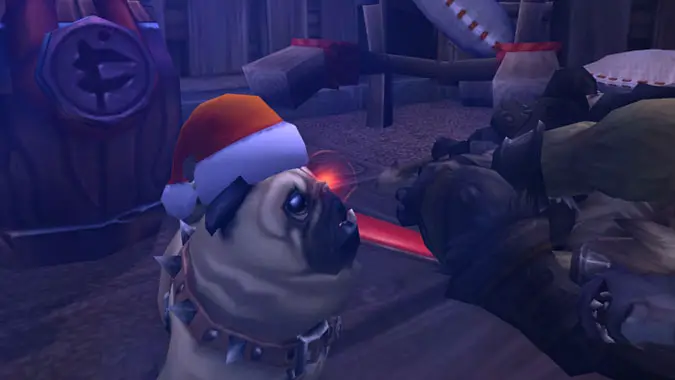 Between holiday weirdness and a general creeping malaise, I literally had no idea that yesterday was Monday until after dinner. Everything in my house is both figuratively and literally a mess. It's supposed to be a high of 70F with thunderstorms today, in what I think is probably still December. In the distance, sirens.
This is The Queue, where you ask us questions and we definitely answer them on our assigned day.
---
LEFTY
QftQ:
What is your favorite WoW screenshot that you've taken?
(Mine's down in a comment to Red 💙 )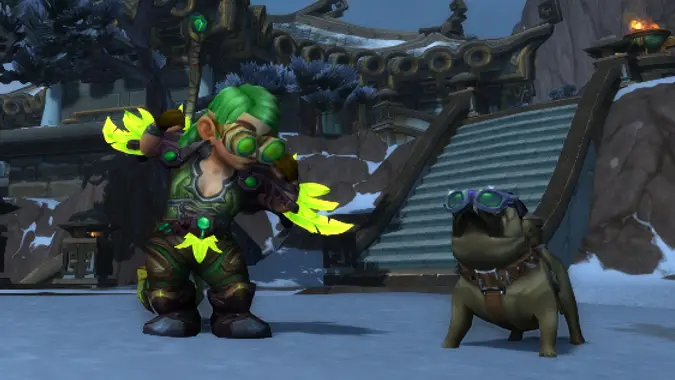 Almost anything featuring my Perky Pug Bertha with her sunglasses on makes for an incredibly fab screenshot, but this one in particular is such a mood. She is so unimpressed and above it all.
---
RETPALLYJIL
Q4tQ II:
If the kingdom of Arathor's emblem was an eagle/hawk, white on red, why is this the shield all the NPCs had?
See, here's the thing. That emblem is the traditional eagle. They have all kinds of different heraldry throughout the game, representing nearly every faction we know to exist. However, what they do not have to spare is pixels.
If you squint a little and tilt your head, there's definitely a beak on this one. I think. Wait, maybe we're holding it upside down and it's that wacky Gilnean sigil. Maybe if I turn to look at it really fast out of the corner of my eye…
---
RETPALLYJIL
Given the persistent thread of duality running through Shadowlands, I was thinking that they have been very specific about the masks used by the Drust to corrupt Night Fae as being made of wood.
Do you think there is a mirror version of Great Trees? Like an Anti-Nordrassil, for example?
I was under the impression that the emphasis on wood was because of the duality of the materials themselves — the wood of Ardenweald contrasted against stone from elsewhere. Establishing fact that stone is incredibly rare in Ardenweald is intended to imply that the runestones they also carry stem from somewhere else — The Emerald Nightmare, Thros specifically. I also thought that this was intended to convey that the masks are of unknown origin, and that, given the corruption stemming from the runestones, the masks themselves could be created on the spot, using the desiccated remains of the forest of Ardenweald itself.
I could definitely be wrong, especially considering how much of the minutiae of the story is established in things like Covenant storylines, and I really can't be bothered to do all of those. However, the idea that the masks could be created of Ardenweald is a really heartrending idea, so I'm kinda down with it. Also, while having the Drust escape into Ardenweald with pouches of runestones makes sense, having them schlep basketloads of unwieldy masks is kind of a funny mental image.
---
SIBYLLE
Q4tQueuvians (I don't think it's much suited for the Queue, tbh): What YouTube channels do you like? Name up to three, with a short description and reason why.
Here are mine:
1. Schola Gladiatoria: I'm into historical fencing, Matt is a highly experienced and knowledgeable historical fencer. With an aptitude for saying completely harmless things in words that have double meanings at times, which is hilarious.
2. Jonna Jinton: A beautiful soul, inside and out, with a talent for creating the most enchantingly gorgeous vlogs chronicling her life as an artist in the North of Sweden. The biggest inspiration for my own vlog.
3. Bernadette Banner: I'm into everything 1900-ish, and Bernadette is an expert on fashion history. She sews the most amazing outfits from all sorts of periods, including my favourite, 1890-1914.
Your turn!
I feel like I've talked about two at length recently — Tasting History with Max Miller and Classic Ghost Stories with Tony Walker — so I'll just wax lyrical about one this time: Device Orchestra.
A dude figured out how to make various household electronics — toothbrushes, typewriters, and credit card readers are his core performers — vibrate at differing speeds in order to make the vibrations change pitch, and also figured out how to start and stop those vibrations and other sounds in time, and now uses all that to create renditions of songs across multiple genres. While the cinematography on his Game of Thrones theme captures my heart, the full orchestration and gradual tempo increase of his In The Hall Of The Mountain King is incredibly impressive.
It's so odd and wonderful and I love it. He only uploads once a month, which is understandable because that must be a ton of freaking work. However, part of the reason I'm only really mentioning this one instead of several is that every time I remember it exists I immediately have to go binge the entire channel, so, you know, have a happy new year and all that.