How do you like to fly in MMOs?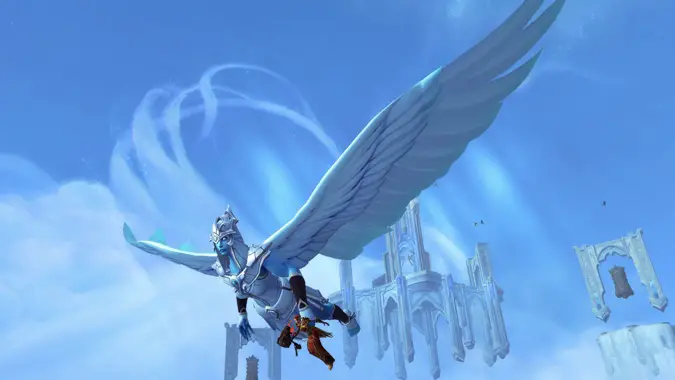 Last week, in a way, was about flying mounts in World of Warcraft — the latest 6-month subscription/Lunar New Year mount is a flying tiger named Wen Lo, and we learned that we'll be flying a lot sooner in Zereth Mortis in patch 9.2. Wen Lo does not naturally have wings; like some other flying mounts a pair of magical wings sprout from its side when it takes off. This is one of the things that WoW and Final Fantasy XIV disagree upon, as the ground mounts in the latter MMO simply run in the air when given the ability to fly. This can come off as goofy sometimes (I for one was greatly amused a few weeks ago when I was able to take an elephant-style mount into the sky), but there are some players who prefer this over the spawned wings — and since every mount in FFXIV can be a flying mount, it probably saves the developers some time whenever they develop a new mount as they don't need to worry about adding wings if it doesn't normally have a pair.
Guild Wars 2 on the other hand has gone in a different direction entirely, as the mounts in GW2 possess different functions based on their type — the raptor mounts, for example, have the ability to leap over long distances, while the skimmer mount is able to glide over water and quicksand — and the appearance is based on the skins you acquire. If you want to fly in GW2 (and not just fall in style by leaping off a cliff with your raptor), there are two mounts that'll get you most of the way there: the Griffon and the Skyscale — but neither can fly the way the mounts in WoW or FFXIV do, as there are limitations as to how high they can climb and how long until they're landing due to lost altitude. It's an interesting system and one that distinguishes GW2 from other MMOs, but at the same time I can understand the frustration with juggling 8 mount types (soon to be 10 in End of Dragons with the addition of the Siege Turtle and the Fishing Skiff), none of which possess the convenience of other games' flying mounts.
How do you feel about flying mounts in your MMO, do you like how WoW does it with the additional "realistic" touches, or do you prefer how some ground mounts in FFXIV are simply running through the air? Do you wish every ground mount in WoW could fly like they can in FFXIV? Have you played with the mounts in GW2 and what do you think of the mount system there? And most important, when do you think the games will finally let us don wings or a jetpack to fly around without a mount? Drop a comment and a screenshot of your favorite flying mount below!