Celebrate Blizzard Watch's 7th anniversary with our brand new phoenix merch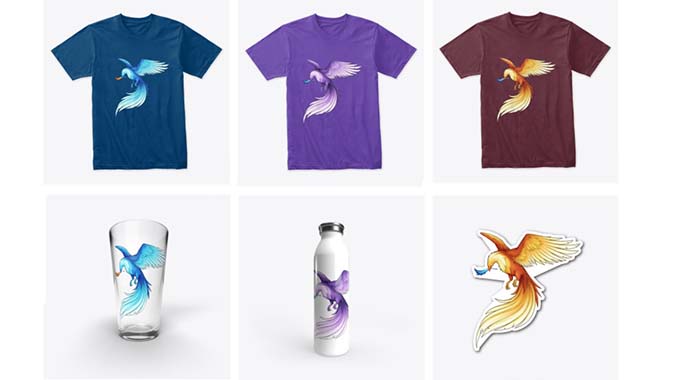 This month is the 7th anniversary of Blizzard Watch rising from the ashes of The Site That Shall Not Be Named. It's been a wild ride as we've expanded our coverage, reported on multiple BlizzCons, rolled out many new D&D podcasts, and more — and we still have plans for great things to come. Based on your recent feedback from our supporters, we plan to keep expanding on our TTRPG content as well as covering other video games with deep lore and story, but don't worry: we'll still be creating content for Blizzard titles, so you won't miss out.
In honor of this special day we commissioned all-new phoenix art in Blizzard Watch blue, Lore Watch purple, and Tavern Watch orange colors from the always amazing Noxychu. And if you'd like to celebrate our birthday with us, you can get some phoenix merch of your own! You can choose from any of these new designs on t-shirts, hoodies, stickers, masks, coffee mugs, blankets, and, for the first time, pint glasses and water bottles. All the apparel is available in different sizes and colors, so you can pick the phoenix color and shirt color combination you like best.
The Blizzard Watch store will be open from today, Feb 1, 2022 until Feb 20, 2022 and then it closes again.

We couldn't have reached our 7th anniversary without you! A large and critical part of the site's operating expenses are covered by our Patreon subscribers, and your support allows this site to keep going. If you haven't signed up as a Patron, now is great time. Our Patreon benefits include:
$3 gives you early access to the 8-10 podcasts we publish a month, plus exclusive access to the longer, uncut recording of the Blizzard Watch Podcast
$5 gives you an ads-free experience on the site
$10 gives you access our behind-the-scenes Discord channel where you can see the writers and editors post memes work hard to bring you daily content
$25 gives you a custom bio for your Warcraft, Blizzard, or D&D character that will be sent to you as well as posted on the site
There's also a $1 tier if you just want to contribute to the site. Every tier comes with additional benefits as well. You can check them all on our Patreon page.
Remember, if you want to pick up anything, the Blizzard Watch store will only be open until Feb 20, 2022, so make your decisions before the end of the month.
Thanks again for all of your love and support. Here's to seven more years and more!