Join us this Saturday for Into the Weirs Episode 2 as we explore a probably not haunted house in latest D&D adventure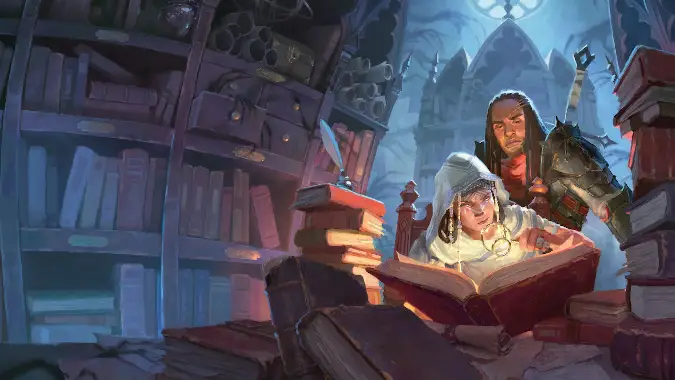 Team Blizzard Watch is running a brand-new D&D campaign: Into the Weirs, an adventure set in an original world that world that Joe and I created together. Our adventures take place in The Weirs, a small city on the River Danae that's on the verge of becoming a major mercantile power. The city is a crossroads between powerful nations and serves as a natural nexus between many different lands. As a result, it's grown into a mixing ground between a wide variety of people, from mountain-dwelling Elves who mine for ore, to local shamans who are wary of the area's growing industrialization.
And on Saturday, February 26, at 4:30 PM Central, we'll be streaming our second play session exploring this new world.
The game stars:
And this weekend we'll see what happens after our party acquired a mansion in The Weirs, because being able to have a house feels like a truly fantastic reward to me, and I'm the one running the game (for now). Is it haunted? Are there a bunch of Kobolds living in the attic? Is the house itself a giant mimic? We'll find out.
I think our future games are going to be really interesting too, because we have an unusual take on DMing, with Joe and myself trading off DM duties. After this storyline is finished I'll be handing the reins to Joe and playing my own character, a Warforged Paladin named Repentance's Opportune Hand. This means that by necessity we'll be doing some of the worldbuilding on the fly, to keep some mystery for the other DM when they're playing and to let the other players add in bits of their own, so the world will expand and develop as we go. So far everyone's added fun backstory that's informed the direction of the game and we're hoping it continues like that.
So far we've only done two sessions: an introductory "session zero" to flesh out the world and our characters, and a single game that jumps right into the action with a roll for initiative. If you haven't listened, you can catch up on the playlist below.
We hope you'll tune in to listen to our next game live on our Twitch channel on Saturday, February 26 at 4:30 PM Central. Can't make it? You can catch up when we post it as a podcast next week. Either way, we'd love to have you as a guest to our new, potentially-not-haunted mimic kobold house.