The Queue: I have no idea what year it is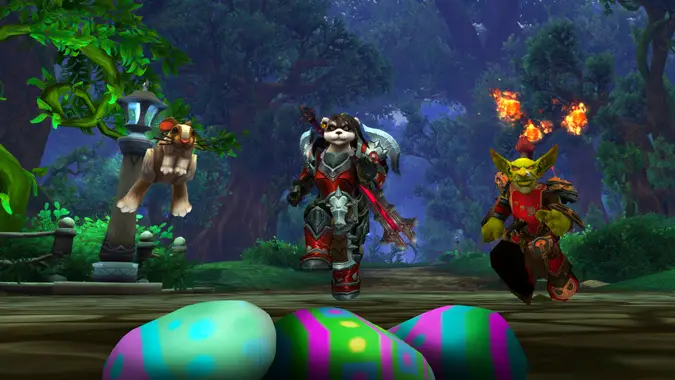 I feel like this is a very common theme for me lately.
This is The Queue, where you ask us questions and we'll answer while we online shop because apparently there's another holiday coming up?
---
KALCHEUS
Q4tQ: "Completionist" or "Completist"?
Kal is attempting to meme on me, because in editing his article on Mordkainen's Monsters of the Multiverse yesterday, I discovered that "completionist" is, in fact, not a word. I feel an argument can be made that due to its colloquial prevalence, it could work in practice. After all, though we do take ourselves somewhat seriously as a whole, we don't follow all formal grammatical rules to a T, since our voice tries to walk the line between being an authoritative source for news and guides, and like a friend telling you a story or how to find that one dang thing (you know the one). In fact, one of the most common edits I tend to make for this site is adding contractions — saying something "is not," unless it's for emphasis, can sound a little stilted and formal in context compared to "isn't," even though "is not" would be the right call for other authoritative sources.
So after that, I also noticed that "Drow" wasn't in the autochecker dictionary either in WordPress or on Discord, "Duergar" is. Also, Kal insisted on using the name of the bird people which just looks like you threw a fistful of letter As at an otherwise perfectly fine word, and yes, I'm intentionally avoiding trying to spell it right now.
So that's the story of how I spent half an hour scouring the internet and some of my own reference books for grammar and spelling rules for this one article, and ended up making almost no hands-on edits.
---
GALDWYNN
Q4tQ: What class are you playing for Diablo 3 Season 26?
I played a Demon Hunter last season, but I think I'll go Crusader this time.
I almost always end up playing Demon Hunter, or occasionally a Wizard. I've always been a bows and arrows type of girl, and Demon Hunters in Diablo 3 tend to be really fun, with a decent amount of survival outs for a ranged class. Much like Skyrim, I'll go in with the best intentions of playing a Barbarian or whatever, and then I find myself a month later vaulting my way out of another scrape.
I will say that I tend to find Barbarians to be kinda fun when I do play them — they're one of the few melee classes I enjoy — but I know me, and eventually we'll get right back to arrows in the face.
---
MAGECOOKIES
QFTQ. What would you think if the allied races were allowed to choose their faction, but the core races stayed either their original horde/alliance.
I think this varies quite a bit from race to race, depending on the narrative. For instance, I'm still pretty hacked off that the Nightborne are Horde-only. I get it from a design and art perspective, but from a narrative perspective — my Gnome just saved your entire race from extinction, bit by painstaking bit, growing a tree, engaging in courtly politics, and even going through a raid to reverse the terrible mistakes you and yours have made. I'm sorry you're personally beefing with Tyrande or whatever, but come on Thalyssra.
That said, a lot of the other races don't make sense to just put a neutral tag on. The Kul Tirans and Zandalari in particular have reason, and then some, to hate the guts of the opposing faction.
Though, that said, there are always the outliers. I can see a Dark Iron Dwarf or two really having a great rapport with Orcish forgemasters, for instance. In other words, I'd really enjoy some kind of defection mechanic.
---
FUZZYBUNNY
I still want to know what happened to Koltira when Sylvanas had him.
This is a tough one, because of how torture as a whole is framed in the Warcraft universe.
On the one hand, I feel like in a rated-T-for-Teen setting, just saying "he was, like, super tortured" is enough. There is an element of curiosity as to what on Azeroth might be so horrific it broke a freaking Death Knight while leaving him alive (so to speak), but at the same time, mm, nah. It reminds me a little of the late Victorian and Edwardian ghost stories where, instead of revealing what the monster is, the author just says something like "wow, this ghost was just so scary that I couldn't possibly describe it because it would be just too spooky for you and you would die it's so spooky." He was tortured, and it was really yucky, and that's enough for us to know.
But.
In WoW, torture is a recurring theme, and frequently a part of torture involves (or is a cover for) some aspect of mind control which changes that character in a way that runs completely counter to their character's actions and motivations to that point. Also, frequently, these people get all Manchurian Candidate and we don't know they're compromised until later. So, while I don't necessarily want to hear about Koltira stepping on Legos while listening to Baby Shark until he renewed his loyalty to Sylvanas, I have a feeling we may come back to this whole thing later. Also, uh, little curious as to who else might still be in whatever basement dungeon Sylvanas locked him in? Should–should we be trying to save them? Are they goo now? Awkward.