What other crab rave-like shenanigans would you like to see Blizzard get up to?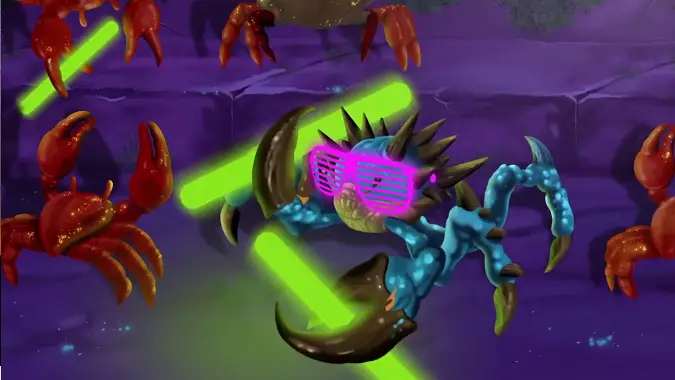 The Hearthstone Twitch channel held an 8-hour crab rave yesterday and it was just as amazing as you could imagine. Sure the graphics were silly and repetitive, and the music, while well-engineered, was still your standard EDM — but I enjoyed it immensely. It was completely unnecessary and frivolous and I love it when developers and social media teams for a game go a little crazy.
Not that the developers and artists at Hearthstone are new to these sorts of shenanigans, regularly dropping enjoyable expansion trailers and occasionally hiding Taylor Swift easter eggs in the monthly card back. They're not the only team that gets to have fun, though — and not just the typical April Fool's Day tomfoolery either.
"Jaina is a Dreadlord" became a popular theory and meme several years ago, even prompting a direct question to the World of Warcraft developer team at a BlizzCon Q&A (the answer was a definite "no"). Heroes of the Storm ran with it, though, adding a Dreadlord Jaina skin to the game and letting it linger in people's headcanon even until this day.
Over on Twitter, the Diablo account has been concerning to say the least for the past several months. Meanwhile on Instagram — actually, I don't have an Instagram account, so if anything fun happens there be sure to mention it in the comments.
Of course the most notable event is the time Overwatch director Jeff Kaplan did a Yule Log stream for Christmas. For 10 hours he sat in front of a fire (although some portions of it were looped) with the occasional foot massage or cookie to break up the monotony. The following two years repeated the event (although with some variations) but neither were as clever — or silly — as the original.
How do you feel about these less-than-serious antics? Do you feel they undermine the games, or do you enjoy the occasional laugh or groan at these shenanigans? Do you want to see more of them, and what do you think the teams could get away with?