Diablo 3 Season 26 Season theme is Echoing Nightmare, an all-new end-game challenge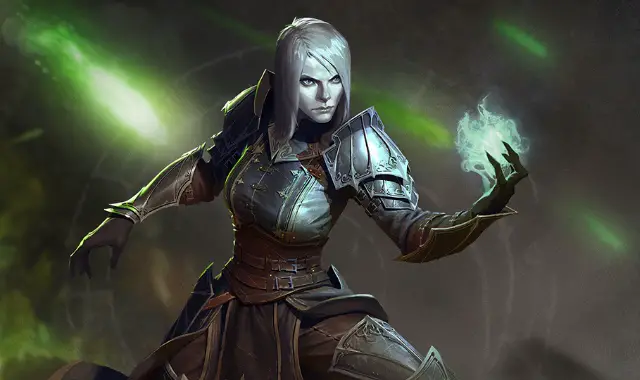 Another Diablo 3 Season has begun, with Season 26 representing the theme of Echoing Nightmare starting on April 15. If you haven't been playing D3 recently, you may not be up to speed on how Season Themes work in the game: much like Diablo 2's Ladders, Seasons in D3 are a special, limited time period wherein you start a new character and level it, essentially restarting the game. But to make it more than just another level grind, Themes were introduced in Season 14 to create new gameplay, with  new mechanics or new experiences to change up the way Diablo 3 approached getting from 1 to 70 and the Paragon climb.
For Season 26, Diablo 3 is introducing a new end-game mode: the Echoing Nightmare, which takes elements of the game's existing Rift system and adds in an escalating difficulty curve as you progress.
Season 26 introduces the Echoing Nightmare, an optional and rewarding end-game challenge where players fight within the memories of Nephalem who fell in a Greater Rift. Today's Nephalem must stand their ground until they are inevitably Overwhelmed or defeated. Players must collect a Petrified Scream from defeated Greater Rift Guardians to gain entry to the Echoing Nightmare. Transmuting a Petrified Scream in Kanai's Cube summons a portal that players can enter to face the horrors of the Nephalem's past.
Season Theme Details:
Petrified Screams and the Echoing Nightmare can only be accessed with seasonal characters.
Only one player is required to transmute a Petrified Scream to open an Echoing Nightmare in a multiplayer game.
Similar to a boss encounter, all players in a multiplayer game must accept a prompt to enter.
While within an Echoing Nightmare, the difficulty scales as players progress in the encounter. Players can progress faster by defeating monsters quickly.
Players receive the following rewards upon completing an Echoing Nightmare: EXP, Legendary Items, Blood Shards, Gems, and a new Legendary Gem, Whisper of Atonement.
The Whisper of Atonement is a Legendary Gem used exclusively for Augmenting Ancient Legendary items. It drops pre-ranked based upon player's performance in the Echoing Nightmare.
Developer's Note: This is our first Seasonal Theme that introduces a new activity to the game. In the Echoing Nightmare, players will experience an intense, densely packed, increasingly challenging event that stretches their ability to stay in the fight as long as possible. We found inspiration in Orek's warning, "Many nephalem have stood where you are now, but few succeeded in overcoming the trials." The Echoing Nightmare explores what happened to those Nephalem who did not succeed.
The Echoing Nightmare plays out like a Super Greater Rift as strange as that sounds — just as you run Nephalem Rifts to gain the Keystones to run Greater Rifts, you run Greater Rifts to get the Petrified Scream to unlock the Echoing Nightmare. The rewards for completing the Echoing Nightmare also feel similar to those in a Greater Rift. The main difference seems to be in the scaling difficulty — where a Greater Rift has a set difficulty level determined upon entering it, the Echoing Nightmare ascends in difficulty as you progress.
The specific wording in the patch notes — "today's Nephalem must stand their ground until they are inevitably Overwhelmed or defeated" — with the word Overwhelmed capitalized makes me wonder if there's a specific mechanic to the Echoing Nightmare that means it unfolds as an endless gauntlet, and that it's not about winning so much as seeing how long it takes you to be overwhelmed. At present, that's conjecture, however. The Whisper of Atonement seems like it will be useful for most players, with its ability to augment Ancient Legendary items. Potentially this will amplify player power and make further progress in the Echoing Nightmare possible.
The theme also has a cool connection to in-game lore, as it is based on a line that Orek — the NPC who starts Rifts for the player — states upon first starting them. If the players are the Nephalem of today, it makes sense that they'd eventually have to face off against the spirits of Nephalem past who failed at the very challenge they're attempting now. All in all, a cool little bit of flavor to the new challenge.
Originally posted 3/8/2022. Updated 4/18/2022.