Tavern Watch Plays Witchlight 05: Bavlorna Blightstraw's bog, bullying brigands, and busted balloons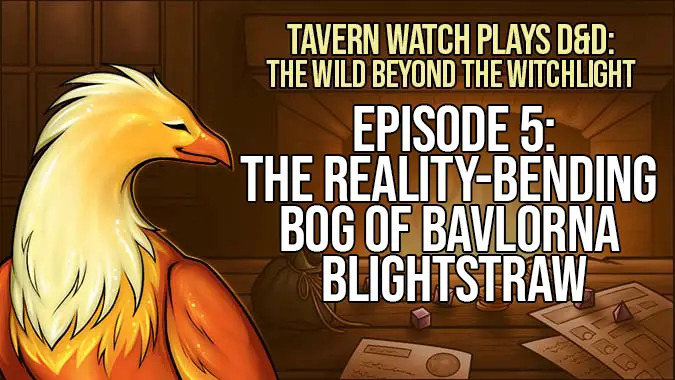 Welcome back to another Feywild adventure as our crew of D&D players continue their adventures through the Witchlight Carnival playing The Wild Beyond the Witchlight with Joe, Matt, Andrew, Anna, with DM Liz.
DM Liz Harper's Wild Beyond The Witchlight D&D adventure continues as our intrepid party navigate a treacherous swamp ruled by a cruel hag, aid a faerie dragon trapped after a hot air balloon crash, and chase after mercenaries harassing the locals all in search of things they've lost that still remain hidden somewhere in the feywild.
Have we piqued your curiosity? You can listen to Episode 5: Bavlorna Blightstraw's bog, bullying brigands, and busted balloons on Soundcloud or directly from this post. You can also click on download icon along the lower bar of the player below to listen on your own device.
Not caught up with our Witchlight game? You can find the entire series in our Witchlight playlist.
You can also subscribe on Spotify, iTunes, or your podcast player of choice to be notified when a new episode is released. You can also catch up on our other podcasts — including our new tabletop gaming Tavern Watch podcast — on our podcast page. And if you subscribe to our Patreon Tier 2 or above you can listen to all of our podcasts early, as well as uncut versions of the Blizzard Watch and Tavern Watch podcasts.
Thanks for your support and enjoy the show!