And with the 14th pick in the 1st round, Blizzard Watch drafts Kalcheus to write today's Queue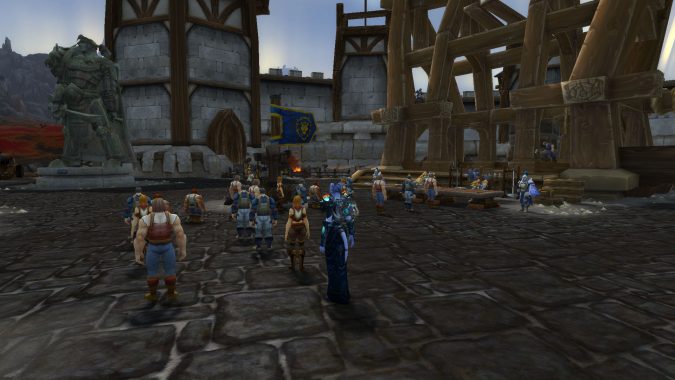 Hello and Happy Friday everybody! Liz needed a break from all the questions regarding the sword in Silithus so I have been selected to fill in for her. Unfortunately I'm writing this while watching the NFL draft so if I go a little heavy on the sportsball comments please forgive me.
---
MUSEDMOOSE TAKES THE SNAP AND FAKES THE HANDOFF
Q4tQ: do you think the upcoming WarCraft mobile game announcement will include a cross-promotion for Dragonflight? Asking because it makes sense that, if there is one, they would delay the beta announcement or pre-orders until the mobile game gets announced, so they don't have to deal with any issues that could come from people not knowing about it.
I very much do! I was super-surprised when pre-orders weren't available immediately after the Dragonflight announcement, and only two possibilities made sense: one, they were unwilling to promise an "available by" date with the preorder because they weren't confident on one, or the preorder bonuses would be connected to the mobile game. While the former is very much a possibility, there seems to be a decent amount of progress so I'm not considering that possibility anymore.
We'll know for sure next week, I imagine.
---
LEFTY GOT HIS MAN FULLY COVERED ON THE OUTSIDE, QB IS GONNA HAVE TO LOOK ELSEWHERE
I'm relieved, frankly. It had steadily diminished in importance since its introduction in Warlords of Draenor, and I actually expected it removed in Shadowlands after it had become mostly irrelevant in Battle for Azeroth. I feel like the need for another Covenant Sanctum feature is what granted the stay of execution, but its time is now over.
That said, I have to expect we'll see it back in some form eventually; it's a nifty tool that the development team can use to help progress the story offline, but it definitely needs a reworking.
---
CORY DIVES INSIDE BUT IS STOPPED AT THE LINE FOR NO GAIN
Q4tQ: 2BE Mount Edition- War Otters vs War Ducks
You otter know by now that I usually duck these kinds of questions, but the War Otter looks too amazing not to select.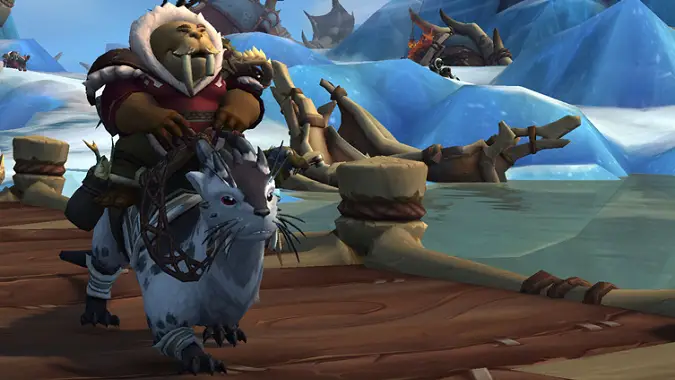 ---
KALCHEUS IS FLAGGED WITH A 15-YARD PENALTY FOR USING HIS OWN QUESTION
Since Diablo: Immortal was given life on PC, do you think the new WoW Mobile game will also end up with a PC option?
I'm not actually going to answer this, but I am curious what y'all think
---
LIZ BREAKS LOOSE FOR A HUGE GAIN!
Why can't I play a Gnome Paladin yet?
The announcement yesterday that all races will be able to play Mage, Priest, and Rogue is a huge deal, and so it's natural that the first question on everyone's mind is what about the other combos currently denied us?
I suspect the loosening of restrictions is part of the larger initiative by the World of Warcraft team that's only recently started gaining traction; I would be shocked that this was in the works back when they started developing Dragonflight. The three classes they've selected are probably the easiest to make universal, as I believe all of the class animations already exist for the races that didn't yet have them — remember, Pistol Shot uses the same animation as Serpent Sting, just with a different skin  — so expanding the combos for those three took a minimum of effort.
When you look at classes such as Demon Hunter or Druid, it's obvious that expanding to more races is going to take a lot of work. Classes like Paladins and Warlocks do have some unique touches that will likely take more effort to roll out.
As for the Lore aspect, as the expansions have gone by I've completely stopped caring about Lore arguments for race-class combinations, and that's for one reason: we're so important to the core story of World of Warcraft at this point — commander, champion, Maw Walker, Head Chef — why would it matter that you're a Highmountain Druid or a Lightforged Draenei Warlock? Players haven't been part of the rank-and-file for a decade now; you don't need to modify the Lore to accommodate the player, the player in of itself creates the Lore.
Or when it came to Gnome Paladins they were just overlooked.
---
ENO SENDS UP THE KICK … AND IT'S GOOD!
What's the last fantasy book you read that you liked?
I've been going out of my way to read all the Nebula Award nominees — including the TTRPGs — and of the ones I've read so far I'd have to say that P. Djèlí Clark's A Master of Djinn is my favorite. Set in an earliest 20th-century Cairo in which Djinn are real, it's a murder mystery with a delightful protagonist and a strong cast of characters. While I read this before Moon Knight premiered, there's a lot of familiarity between the two works so if you're enjoying the Egypt aspects of the show you should check this book out.
---
DERREK KNEELS DOWN, ENDING THE GAME
Which character(s) are you most looking forward to seeing again in Dragonflight?
If Stellagosa and Arcanist Valtrois aren't together on the Dragon Isles solving mysteries I am going to be exceedingly disappointed.
That's it for today's Queue, and it's the last Queue of April as well! Everyone have a great weekend and please take care of yourself. We'll do this again Monday.