The Queue: Busy weekend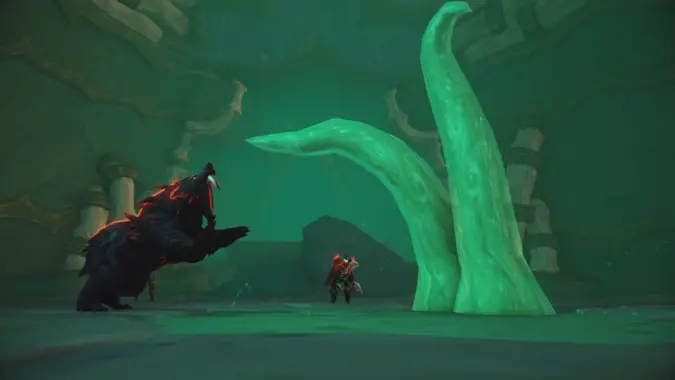 I had such a busy weekend in real-life that I need a second weekend to recover! (Please don't send me to the Bad Place)
I feel like my poor Druid has been so neglected at this point that it's probably covered in a bunch of spider webs and dust. Also when it stands up a swarm of bats has been nesting in its fur and they fly off into the night. Just classic cartoon nonsense y'know?
Of course, I am a Venthyr Druid so those bats might be unrelated…
While I try and win the lottery so I can have more peaceful weekends, it's time for — The Queue
---
RETPALLYJIL SO YOU WANT TO JUMP OUT YOUR TRICK BAG AND EASE ON INTO A HIP BAG
Q4tQ:
With all the customization they are giving us all of a sudden, don't you think it's way past time they gave us the option to be left-handed?
This is the kind of thing that sounds like it should be really easy to accomplish — to someone who isn't a game developer. I mean it's just mirroring the animations to the other side or something like that right… how hard can it be?
But I wouldn't be surprised if all of the animators at Blizzard just shivered out of nowhere and got a little scared.
There are probably a lot of extra things that would need to be accounted for in left-handed animations that we haven't even thought of. Like casting animations, or things where a player character holds something for a quest, or accidentally messing up a value and having characters with multiple arms suddenly implode.
Come to think of it, it's pretty rare that a game does left-handed as an option — it's probably a right-handed conspiracy then.
---
BUT JALAMENOS THE ASCENDED AIN'T JUST EXACTLY SURE WHAT'S HIP SO YOU START TO LET YOUR HAIR GROW
Are stealth changes to classes on live servers common?
Got a community member that swears his Mage is suddenly doing 600 DPS less for no reason and say stealth nerfs are common.
But I've never noticed anything like that.
Historically not that I've seen.
It's too easy to track changes, and even undocumented changes in major patches will usually show up in a list on Wowhead the day of.
Since you posted this on Sunday afternoon, the Mage probably noticed that over the weekend. It's possible that there was a bug related to one of the hotfixes pushed to something and it hasn't been rectified yet — or nobody has brought it up to the Warcraft Devs in an easily reproducible way.
Maybe someone was juicing them with a trinket, or they didn't realize a friendly Priest was hooking up the Power Infusion the last time they checked their numbers.
If there was a hotfix over the weekend that messed with something in the Mage kit, or one of the items they're using it also wouldn't get broadcast until Monday.
---
KALCHEUS YOU INTO A HIP TRIP MAYBE HIPPER THAN HIP
Q4tQ: If they were able to put in a direct portal to Zereth Mortis via the door, why couldn't they change the other transits to direct portals?
It's a flight master union issue. You try telling all of those Anima Wyrm tamers and armorers that they're out of a job. You'd have a strike on the Oribos flight deck faster than you could say "Mage port."
---
LD SOTH BEEN HANGIN' OUT ON THE SO-CALLED HIPPEST SET BEING SEEN AT ALL THE RIGHT PLACES
Question for BW Podcast:
LD Soth here with a gripe. Do you think Blizz should lighten or even remove bind on pickup trade requirements? I'm in the process of switching to a holy priest main. I have 3/4 of my tier set and in our guild run last night, a token for the chest piece dropped for someone else. They didn't need it as theirs was better and it would have completed my tier set bonus, but item trade restrictions didn't allow her to trade it to me even though we were in the same guild and on the run at the same time. So even though it dropped, it's only getting turned into gold and that feels like a huge waste, especially since we got wiped 2 or 3 times before we killed the boss.
Yeah, it's definitely annoying that the Tier Tokens have extra requirements on the above and beyond the usual ones (that are already annoying when it's a guild run). I've always said that there should've been a way to keep Master Loot for guild groups in raids and dungeons if that was something you wanted to do. I get that Personal Loot is easy and has its place in preventing degenerate behavior from PUG leaders, but when you're working in an organized space like guild raiding it shouldn't be harder to make sure the right person gets the upgrade.
Good news though, they have talked about loosening restrictions in the future, and that Master Loot might be coming back in some form.
---
6K MAYBE EVEN MANAGED TO RAISE YOUR CONSCIOUS LEVEL
Could a red dragon ever microwave a burrito so hot that not even they could eat it?
Why would a Red Dragon need a microwave to heat up their burrito?
But no, even if they suddenly decided to switch from general-purpose roasting to microwave cooking I don't believe that they could make something so hot that they couldn't eat it. The microwave burrito would be a smoldering puck of charcoal before that happened.
Today's Anna Earworm™: What is Hip
As a late Mother's day treat for Anna, don't forget to leave her lots of questions — enjoy your week everybody!