WoW
May 9, 2022 10:00 am CT
How to use spatial openers in Zereth Mortis to acquire trinkets, rings, and an amulet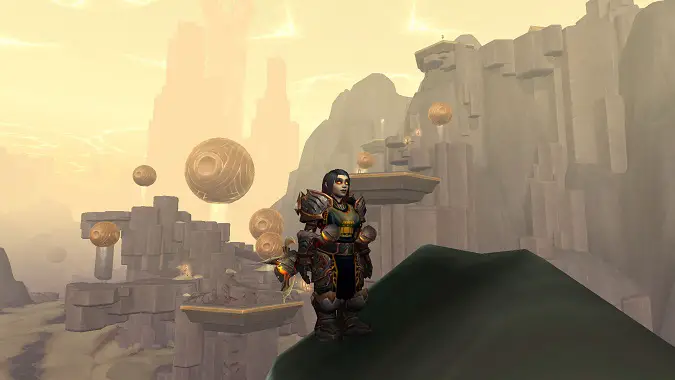 While adventuring in Zereth Mortis you may find yourself some Spatial Openers that don't describe what you're supposed to do with them. The description "opener" points to it perhaps being a key, but instead they let you … dig in a pile of sand for loot. Questionable mechanics aside, the items you can get from the piles of sand include rings, trinkets, and an amulet all in the ilevel range of 242-246, providing a nice boost for those slots on characters struggling to populate them.
There are seven spatial openers you can get, and seven piles of sand on which they can be used. Because getting to the location — known as the Dormant Alcove — where the piles are located isn't simple, it's recommended that you unlock flying in Zereth Mortis and acquire all seven openers before going in there. You'll also need to complete "A Means to an End," the penultimate chapter of the Zereth Mortis campaign, before the area with the sand piles will be accessible to you.
The seven openers are located in specific treasures of Zereth Mortis and as such they're typically always available to loot, and can only be looted once. The treasures you'll find them in are marked on the map below, and include:
Once you have acquired all seven Spatial Openers you'll be ready for when you reach the Dormant Alcove.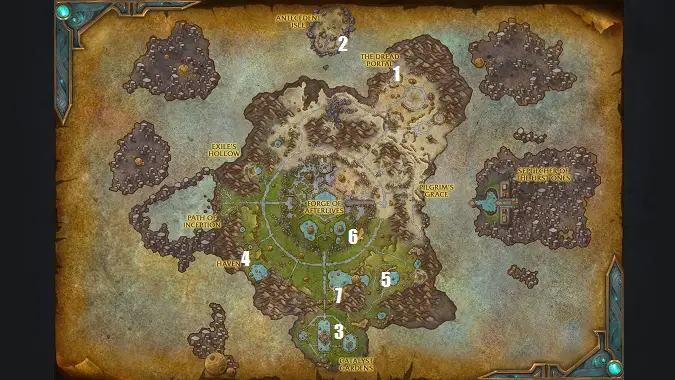 Unlocking the Dormant Alcove
The key part of this exercise is being sure you've completed the "A Means to an End" chapter of the Zereth Mortis campaign — you'll know you've gotten it because there's an associated achievement. After it's completed you can return to the Terrace of Formation (where that chapter largely took place) and unlock a few more locations accessible only via the Locus system.
Before you can go there, however, you need to find the Dormant Alcove Arrangement. This rune is located just below the Quintus Locus and above the entrance to the Gravid Repose, where you would have first unlocked the Locus system. Once you've clicked it, the Dormant Alcove is accessible once you bank up 60 of the Cosmic Power to transit to it.
Go down to the Gravid Repose and spend 30 Cosmic Power to go to the Interior Locus. You'll see that there is now a second Locus Shift in the Interior Locus in the northwest corner of the room. When you click it, you'll see a path to the Dormant Alcove — select it (spending 30 Cosmic Power in the process) and you'll arrive where the piles of sand are located.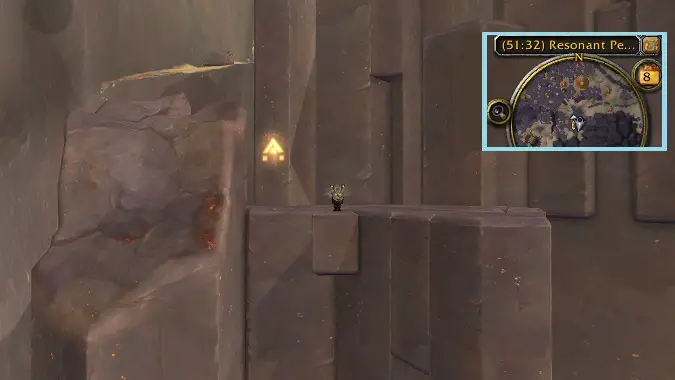 Opening the piles of sand
There will be seven piles in the room that should be highlighted when you first arrive. Unfortunately if someone recently looted them, you may need to wait for a respawn — but can also try going to a different shard by joining a custom run in the groupfinder.
Before you start interacting with the piles of sand, be sure to have enough space in your bags as the Postmaster will not mail you any items you missed due to a full bag. Each of the piles reward Cosmic Flux, a few Cyphers of the First Ones and Anima, along with a chance of getting Progenitor Essentia. They also have an adjective descriptor in case you decide you only want to open a select few during your visit, and the main reward is specific to a pile a sand.
Starting from where you enter and working left to right:
Opening all seven sand piles rewards the Sand, Sand Everywhere! achievement.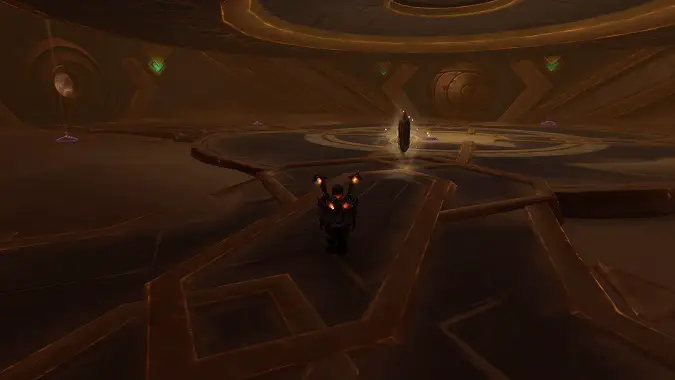 Putting right what once went wrong
Because there's a limited count of Spatial Openers and the possibility of them being deleted or used with full bags, an option was added to purchase them from Olea Manu, the Jiro vendor outside Exile's Hollow. Before you can purchase anything from Olea Manu, however, you'll need to have researched Altonian Understanding at the Cypher of the First Ones and completed the "Jiro to Hero" optional quest chain. If you have done so, you'll be able to purchase Spatial Openers for 200 Cyphers of the First Ones apiece until you've completed the Sand, Sand Everywhere! achievement.