The Queue: Ready for EOD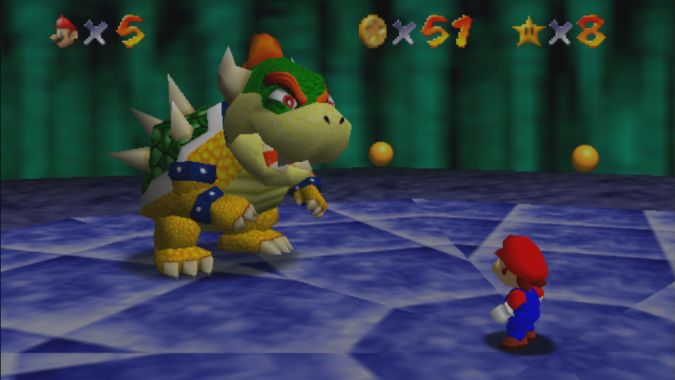 It's one of those days where ya wake up and are just kind of ready for it to ne the next day from the get go. Today is one of those days.
But hey, at least I have cats. Those always help me get through the day. You know what else helps get me through a day?…
…a good ol' fashioned Queue.
---
GLOWING METEOR CARROT BRINGS ME BACK:
What's the game that you've completed the most?
I don't know for sure, but it's almost definitely either Mario 64 or Star Fox 64. The former is one of the first games I ever played, and I played it a whole lot as a kid, often deleting 120-star save files to start a new playthrough. Not to mention, I played the Switch re-release as soon as it came out; I really love the game a whole lot.
The latter (Star Fox) is much more easily beatable, so it's likely I've beaten it more times than Mario 64, even if I've spent more time on Mario. I have Star Fox 64 memorized, and it's one my best friend and I will still come back to, quoting line after line and basically playing off muscle memory.
---
RED ASKS A QUESTION I'VE (SORT OF) ALWAYS WONDERED:
Q4Mitch: what if Blizzard is making a new Silent Hill game? What then?
Well, I'd be fairly excited! I've seen Silent Hill playthroughs, but I haven't actually played the games myself. Big fan of the world, the designs, and spoOooOoky fog — just haven't played. I'd been looking forward to the Kojima game precisely because I wanted to get into the series with a modern title.
So if Blizzard — whom I largely trust to make a good game — were to make a Silent Hill title, I'd be happy! I don't think it would be a traditional Silent Hill experience, but I still think it would be a good experience. I've often wondered what a Blizzard horror title would look like, so I'm all for this. (I know Diablo is horror-ish, but I think you get what I mean.)
---
ARTHONOS ASKS ABOUT NEWS:
With E3 cancelled, do you think we still will get a bunch of gaming news and announcements next month?
Which do you think we will be able to play first: Dragonflight or BotW2?
If I had to guess, I'd say we see a lot at Summer Game Fest in early June. It's not quite as big an event as The Game Awards (to my knowledge) but anything with Geoff Keighley is bound to have some big surprises.
Dragonflight proper? Or the alpha/beta? Because we'll definitely have a playable build of Dragonflight before BOTW 2. As for a full release… Yeah, I still think it'll be Dragonflight.
---
BOVEN WHITEHOOF TAKES US… IN A DIFFERENT DIRECTION (OR NOT??)
When will Highmountain Bikini Party be released?
Well, at the moment, I cannot say it won't be in Dragonflight so, I mean…
---
KALCHEUS ASKS WHAT EVERYONE IS WONDERING:
I admittedly have not kept up with the news or PTR cycle at all, I'm gonna say possibly this coming Tuesday if Blizz feels confident they won't have to hotfix a lot (which… cross-faction play will likely cause some surprises). Otherwise, the following Tuesday once folks are back from a long Memorial weekend.
---
MUSEDMOOSE WANTS A NEW REFERENCE:
Q4tQ: we know Blizzard loves their pop culture references, so what would you like to see referenced that hasn't been?
After falling in love with the game a while back, I'd love to see Persona 4 referenced somewhere. Especially if it's something that nobody would get if they hadn't played the game. Put an empty cartoonish bear costume next to a TV in Overwatch or something. :P
I don't think I count as "pop culture" but I still have always wanted something in-game named after me. That's very unlikely to happen nowadays, but still.
To give you an actual answer to your question, uh… dang, this is harder than I thought. There was a reference to Paramore in Shadowlands that I didn't really expect to see, and it was a pleasant surprise to see someone on the dev team share my affinity for music references.
So I guess if they added a reference to, like, My Chemical Romance I think that would be cool.
Mitch does some Googling
There's a chance they added a reference to Gerard Way in Maldraxxus, which would make sense if it's from the same dev who put in the Paramore reference buuuuut I'd still be all for a Black Parade reference. Especially because that song totally kind of works for Anduin.
---
ENO CLOSES US OUT WITH A QUESTION ABOUT QUESTIONS ABOUT LORE:
QftQ: If there was one Blizzard game-related lore question you could find the answer to with a magical, all-seeing encyclopedic orb of knowledge, what would your question be?
I don't know if this counts, but I'd love to know all about the game's cut content. The stuff like Gillijan's Island and The Isle of Dr. Lapidis, the original Emerald Dream, the original Hyjal, which had an entire sub-section unused in the eventual raid, any original plans or ideas for Warlords — stuff like that. I want the behind-the-scenes info to know what could have been.
Specifically pertaining to unknown, in-game lore though? There are a couple that come to mind, but I guess I'd like to know what all of Azeroth looks like. Is there another side? (Another) veiled continent we don't know about? Effectively, I'd want to know when we would run out of Azeroth to explore.
That's our Queue for today! I hope you all have a great week!