WoW
May 23, 2022 10:00 am CT
The patch 9.2.5 Mythic affix is Shrouded, hiding duplicitous Dreadlords in dungeons you thought you already knew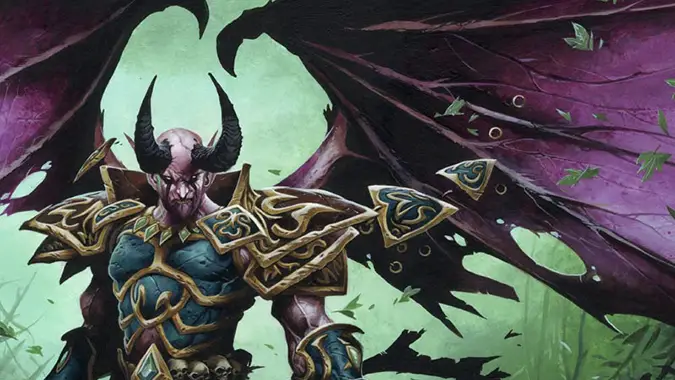 In the new Season 4 of Mythic+ Dungeons coming in Patch 9.2.5 of Shadowlands, players will no longer run the same set of dungeons they have been all expansion long, but the new list of dungeons aren't new dungeons at all. They're a list of dungeons from across four expansions, from Warlords of Draenor through Shadowlands. The question was — why would adventurers revisit these places? What connects them?
Now, with the announcement of the new affix for Season 4, we know. The affix is called Shrouded. This reads, "Nathrezim infiltrators have disguised themselves among enemies throughout the dungeon. Cartel Ta will reward you handsomely for assisting in their capture." Yes, the Dreadlords are still a threat, and still out there disguising themselves as others. And it's up to you to weed them out.
The way this works, a bounty hunter NPC is positioned at the start of the dungeon, and offers the group a buff of a secondary stat. The first buff is free, and then stacks for each Dreadlord captured throughout the dungeon.
The choices are:
To determine who is a Dreadlord — please don't accuse a party member — certain mobs throughout the dungeon will have a dark aura around them, and have a Disguised buff. Once the mob is pulled, it will be replaced by a Dreadlord. Often it will be a Nathrezim Infiltrator, but can also be a miniboss, like Dreadlord Zul'gamux. So far in PTR testing, these mobs are easier to defeat than the ones from the Encrypted affix.
After being defeated, the Dreadlord isn't killed. Instead, a Bounty Hunter comes out, and captures the defeated foe. As a reward, the Bounty Buff is increased by one, increasing the secondary stat that was chosen at the beginning, and a five second buff is applied to the party — Restoration. This restores 6% of mana and health every one second over its duration.
Now that you know the Dreadlords are out there, and that Bounty Hunters reward you for seeking them out, go hunt them down. Make them drop their disguises and pick up whichever buff your group wants most — and it's Haste, every group will be choosing Haste.