Get ready for your next binge watch, because Netflix is working on a Horizon Zero Dawn series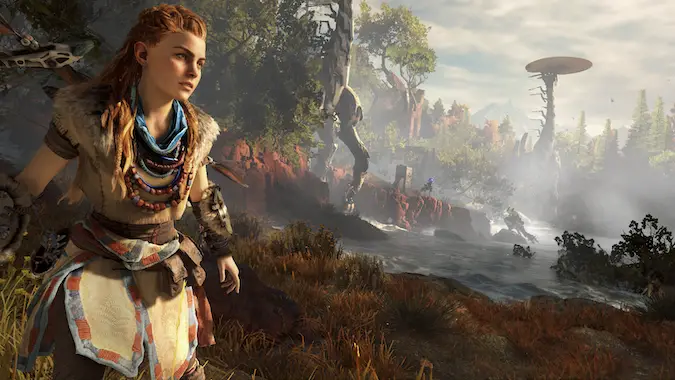 Grab your PlayStation controller and your LEGO Tallneck — we're about to get another form of Aloy on our screens. That's right: Netflix is in the early stages of developing a series based on the best video game hair in the business! But what would a Horizon Zero Dawn series even look like?
First, picture the casting. My perfect Aloy might be someone like Rose Leslie (Claire in The Time Traveler's Wife and Ygritte in Game of Thrones). The talent pool is vast, but I want someone that I know can deliver on Aloy's physical toughness and enduring heart. Of course, there's also the original inspiration for Aloy's design — Hannah Hoekstra — which would be both fitting and incredibly cool
I'm sure the Machines are all going to look spectacular. I have to imagine the rendering in the games sets at least a solid foundation towards bringing them to life. And while I am not a professional with CGI by any means, it seems like the technology has basically been building steadily towards this project for decades, with the quality of animation — and integrating animation with live action — steadily improving. Think of how CGI in cinema has developed over time, from the dinosaurs of Jurassic Park to the kaiju and jaegers of Pacific Rim. Don't even get me started on WALL-E — if little animated robots can make me cry, the possibilities are endless for HZD's surreal sci-fi behemonths.
In case you could use a refresher, our humble Lore Watch podcast covered the story and lore of Horizon Zero Dawn, and there's even more on the recentsequel Horizon Forbidden West.
But as excited as I am, a little wariness doesn't hurt. The use of words like "adaption" means that we might not be strictly following the story we all fell in love with in HZD, or the story may be changed beyond our recognition. And if the Horizon franchise is not your cup of tea, you're in luck: Sony Interactive is working on projects for a variety of franchises, such The Last of Us with HBO and God of War through Amazon Prime Video. 2023 is sure to deliver some very interesting viewing for gamers, indeed!