How do you feel about the (mostly) surprise appearance of Dark Ranger customization options in WoW?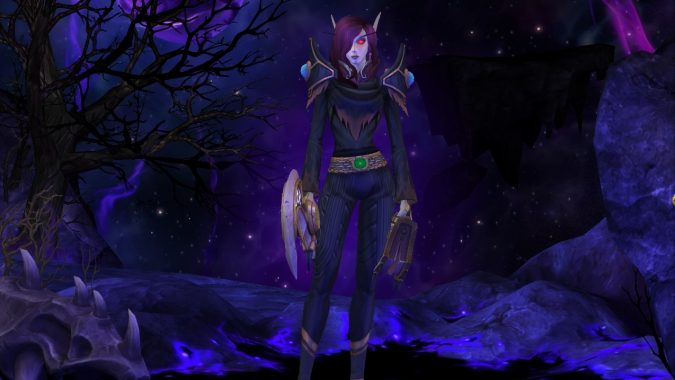 Patch 9.2.5 hit the live servers yesterday after a series of maintenance extensions, and like many had presumed, it turns out that there was some hidden content in it. Spoilers for patch 9.2.5 content ahead!
Turns out, a whole new questline takes you to Tirisfal Glades, where you witness the formation of a new version of the Desolate Council and the reclaiming of the surface of the Ruins of Lordareon. Your rewards for helping the Forsaken shape their new future are a title and — far more important — the ability to customize your Void Elf, Night Elf, and Blood Elf characters to look like Dark Rangers (unless they're Death Knights or Demon Hunters, since the customization options aren't available to those two classes).
Dark Rangers have been hotly requested by the community for a very long time now. It's true that no one was quite sure what form they would take when they were to be finally introduced to the game. A new class? A new specialization for an existing class, such as Hunter? A new Allied Race, like Darkfallen? A class skin?
The solution found by Blizzard was to introduce a new set of customization options for three existing races. Which, while maybe not as exciting as getting a brand-new set of class or racial abilities, has the positive effect of allowing existing characters to take on that new form, rather than requiring players to roll brand-new characters.
You simply need to decide to switch to the new skin tone and eye color at your nearest barbershop — and if you ever get tired of it, you can quickly and easily restore that character to their rightful place among the living. A little anti-climatic, perhaps, but certainly very convenient. With such ease of access for the customization feature, all that's left is to choose to partake in it — or not.
I did the whole questline on my Void Elf Shadow Priest. It felt fitting to give her a chance to work with fellow Priest Calia Menethil again. Once I finished it, I decided to take the Dark Ranger appearance on that character — and I liked it. That character was already accustomed to a dark, shadowy aesthetic, and being a Dark Ranger reinforced that side of her even further. So I decided to stick with it for the foreseeable future.
What about you? Are you changing any of your existing Blood Elf, Void Elf, or Night Elf characters into Dark Rangers? Are you rolling a brand-new character to take on that role from the very beginning? Or maybe you're changing a character of a different race into one of those three, to take advantage of the new customization options? I could certainly imagine Forsaken players in particular, having been enamored with that aesthetic for a long time, and seriously consider taking it now. Share your thoughts about Dark Rangers with us, and your plans regarding them!